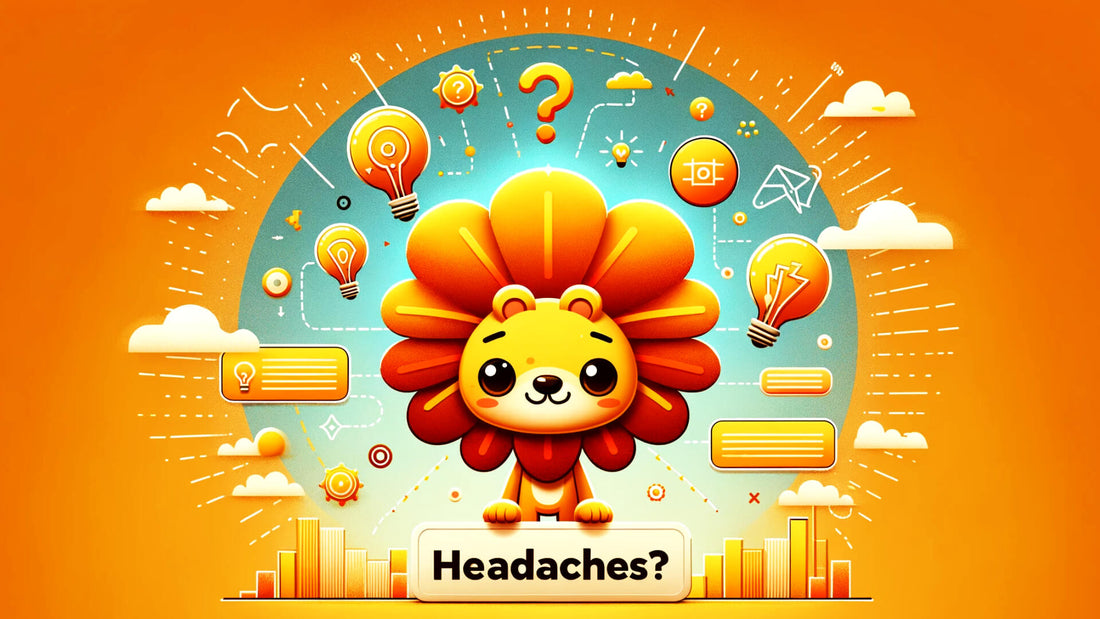 Can Lion's Mane Cause Headaches?
Can Lion's Mane Cause Headaches? Unveiling the Truth About this Popular Mushroom
Table of Contents
---
I. Introduction to Lion's Mane
Ah, Lion's Mane Mushroom—the trendy supplement popping up on social media feeds and wellness blogs. Known for its benefits like cognitive enhancement and nerve repair, this functional fungus is having its moment in the sun. But just like any trend, it comes with a dose of reality—potential side effects. Today, we dive into the puzzling question: Can Lion's Mane cause headaches? It's crucial to know what you're stepping into before embracing this nature's marvel.
Did You Know?

Botanical Name: Hericium Erinaceus
Common Names: Lion's Mane, Monkey Head, Bearded Tooth
Primary Benefits: Cognitive Support, Immunity Boost

🍄 Dive deeper into the What Is Lion's Mane blog for more information.
II. Commonly Reported Side Effects of Lion's Mane Mushroom
A. Headaches and Migraines
Here comes the crux—do people using Lion's Mane report headaches or migraines? Various online forums and discussions are rife with such accounts. From mild tension headaches to pulsating migraines, users seem to be airing a mix of experiences. But remember, anecdotal evidence is just that—stories, not science. While some propose that the headaches might result from increased brain activity, these are speculations at best.
Quick Tips: Headaches from Lion's Mane

Rule out allergies
Monitor dosage
Assess quality

For more, read Can Lion's Mane Cause Headaches?
B. Other Common Side Effects
Besides headaches, other commonly reported side effects include itching, rashes, and digestive issues. These side effects seem less prevalent but worth noting, especially for those with sensitive systems. Some users also report symptoms like dizziness and changes in bowel habits. Most of these symptoms seem to be mild and transitory.
Common Side Effects: At a Glance

| Side Effect | Frequency | Severity |
| --- | --- | --- |
| Headaches | Medium | Mild |
| Itching | Low | Mild |
| Digestive Issues | Low | Medium |

For a comprehensive overview, explore Lion's Mane Side Effects.
III. Expert Perspectives and Community Discussions about Lion's Mane
Opinions from functional mushroom experts often fall on the spectrum of cautionary endorsement. While many tout the benefits of Lion's Mane, they don't shy away from mentioning the potential drawbacks. They recommend starting with smaller doses and gradually ramping up, all under medical supervision. Public forums and Reddit threads are also valuable resources, offering a cocktail of both miraculous claims and cautionary tales.
For the Best of Both Worlds

Consider our Superior 10x MushroomX549 for a balanced mix of multiple mushrooms, including Lion's Mane, to support overall wellness.
IV. Scientific Research on Lion's Mane Mushroom Side Effects
The scientific dossier on Lion's Mane is yet to be as thick as its mane. While studies often focus on its positive effects, there's limited research addressing side effects. Methodological limitations and lack of large-scale human trials also dampen conclusive statements. However, existing data generally points towards Lion's Mane being well-tolerated by most individuals.
Scientific Studies: Key Highlights

Limited data on side effects
Generally well-tolerated in small doses
Calls for more comprehensive studies

Know more about the scientific angle in our blog Does Lion's Mane Help With Dementia.
V. Factors Influencing Side Effects of Lion's Mane
Your unique biochemical makeup can influence how you respond to Lion's Mane. Factors like age, other medications, and even the time of day can all play a role. Plus, the quality of the supplement—such as our Superior 10x MushroomX549—can affect the presence and severity of side effects.
Influencing Factors Checklist

Age
Existing health conditions
Medications
Product quality
Dosage
VI. Management and Addressing Side Effects
If you do experience headaches or other side effects, consult a healthcare professional. For milder symptoms, consider reducing the dosage or pausing consumption altogether. Always use high-quality supplements to mitigate potential risks.
Management Tips

Consult healthcare professionals
Adjust dosage
Use high-quality supplements like our Wellness Drops Bundle
VII. Conclusion - So, does Lion's Mane Cause Headaches?
Like any supplement, Lion's Mane comes with its set of pros and cons. While it offers a buffet of benefits, side effects like headaches cannot be ignored. The golden rule is to consult your healthcare professional and opt for quality products to minimize risks.
Key Takeaways

Lion's Mane is a celebrated functional mushroom but comes with potential side effects.
Individual experiences vary; proceed with caution.
Always opt for high-quality supplements and consult healthcare professionals.
---
FAQ - What you need to know about Lion's Mane Mushroom
Q: Can Lion's Mane cause headaches?
A: Some users have reported headaches, but scientific evidence is limited. Consult a healthcare professional for personalized advice.
Q: What other side effects are commonly associated with Lion's Mane?
A: Besides headaches, mild itching, and digestive issues have been reported. Again, individual experiences vary.
Q: Can Lion's Mane interact with other medications?
A: While comprehensive data is lacking, it's always best to consult a healthcare professional if you're on other medications.
Q: Where can I find quality Lion's Mane supplements?
A: Check out our Superior 10x MushroomX549 for a high-quality, balanced supplement that includes Lion's Mane.
Feel free to reach out with more questions or for further clarifications. Cheers to a balanced, well-informed wellness journey! 🍄✨