Regular price
$68.98
Sale price
$62.95
Unit price
per
Sale
Sold out
Ensure your canine has a strong and nourished coat with the CHOCOLATE LAB FUR & COAT DOG D164.
Treat your furry pal with the CHOCOLATE LAB FUR & COAT DOG D164 - experience less shedding, soothe itchy skin, combat allergies & dandruff for your dog! Don't bear the weight of skin & coat issues - with this solution, it's effortless!

✓ EPA
✓ DHA
✓ Omega-3

✓ Reduce Shedding

✓ Reduce Dandruff

✓ Reduce Scratching

✓ Healthy Shiny Coat
✓ Enhance Cognitive Performance

✓ Improve Cardiovascular Function
For best results, give appropriate number of CHOCOLATE LAB FUR & COAT DOG D164 softgels once a day or as directed by vet.
Serving size 1 softgel, 30 servings per container.
View full details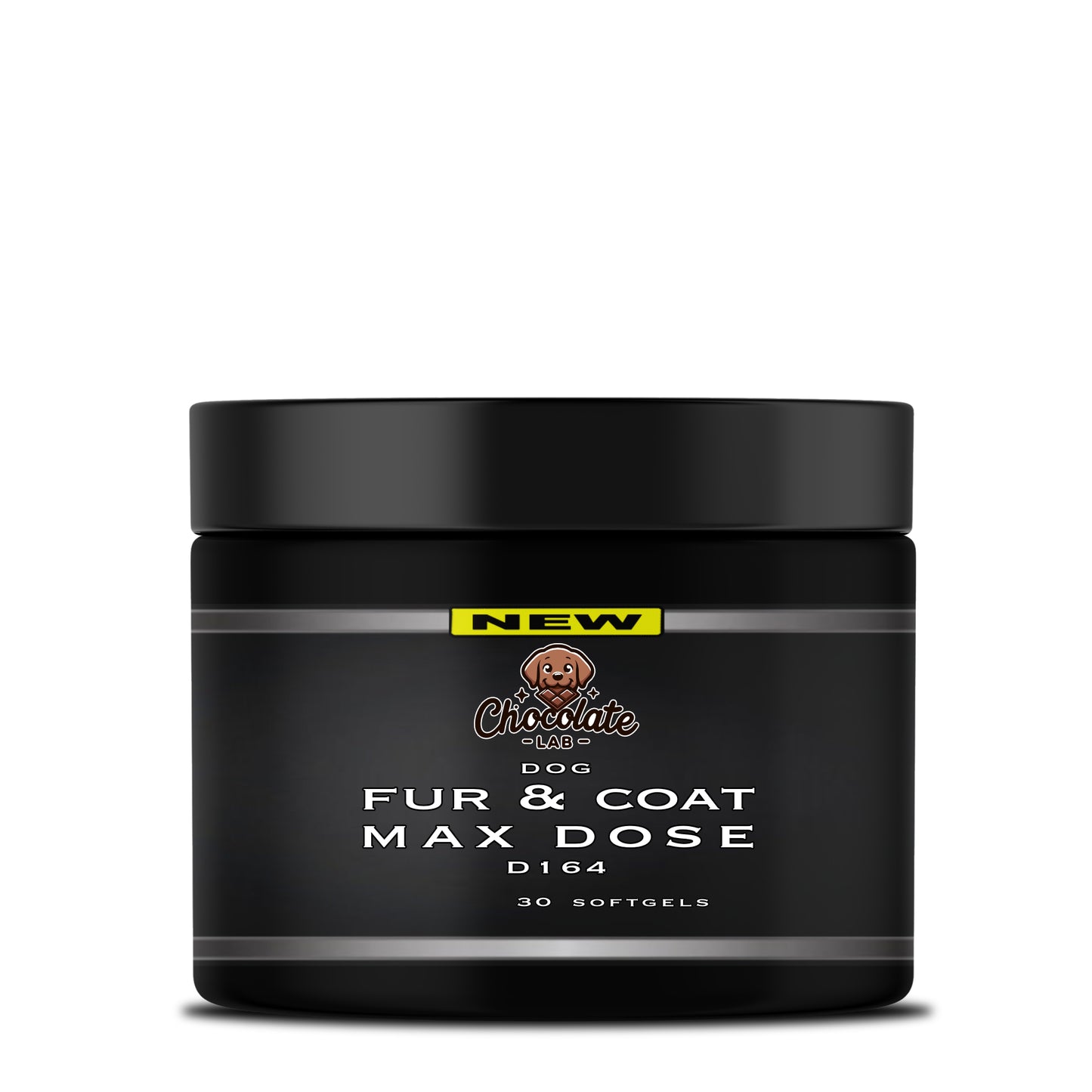 Exclusive Bundles we think you'll LOVE:
Ensure Your Dogs' Skin and Coat Stay Shiny and Healthy!
✓ Optimize Your Dog's Digestive System for Ultimate Wellness

Promote healthy skin and reduce shedding for your dog with CHOCOLATE LAB FUR & COAT DOG D164. This specialized formula is perfect for dogs with allergies that lead to dry, itchy, and inflamed skin. Say goodbye to messy creams and sprays - D164 is mess-free and easy to administer.

✓ Improve Immune System Resilience

Enhance your dogs's brain and heart health - Our omega 3 krill oil for dogs contains DHA, which has been scientifically proven to improve cognitive performance, behavior, mood, and memory.


Boost your dog's cardiovascular function and support a healthy heart with EPA! This incredible supplement helps maintain normal blood pressure and heart rate, while also preserving lean body tissues.

✓ Phospholipids
✓ Omega-3 Fatty Acids
✓ EPA (Eicosapentaenoic Acid
✓ DHA (Docosahexaeonic Acid)
✓ Astaxanthin

✓ MADE IN USA!

Experience the amazing benefits of the NEW CHOCOLATE LAB FUR & COAT DOG D164. This extraordinary supplement is purely organic and free from GMOs. We proudly consider it a golden supplement that embodies excellence.

Moreover, it is proudly manufactured in the USA and is highly recommended for individuals on a Keto diet.