Regular price
$24.99
Sale price
$23.95
Unit price
per
Sale
Sold out
Have your Dog Experience the Bliss of a Good Night's Sleep with CHOCOLATE LAB SLEEP MUSHROOM DOG D158!
CHOCOLATE LAB SLEEP MUSHROOM DOG D158 offers the optimal combination of relaxation and comfort, ensuring your canine companion will rise feeling well-rested and energized.
✓ Natural Sleep Aid
✓ Have your Dog Sleep All Night

✓ Promotes Immune System Wellness
✓ Relaxing & Calming Blend for your Dog

✓ Promotes Prolonged Regenerative Rest
✓ Alleviates Symptoms of Anxiety & Tension
✓ Boosts Endurance and Efficiency for the Following Day
For best results Sprinkle appropriate amount of CHOCOLATE LAB SLEEP MUSHROOM DOG D158on top of Food and give 30 min before bedtime or as directed by vet.
Serving size 1 scoop, 30 servings per container.
View full details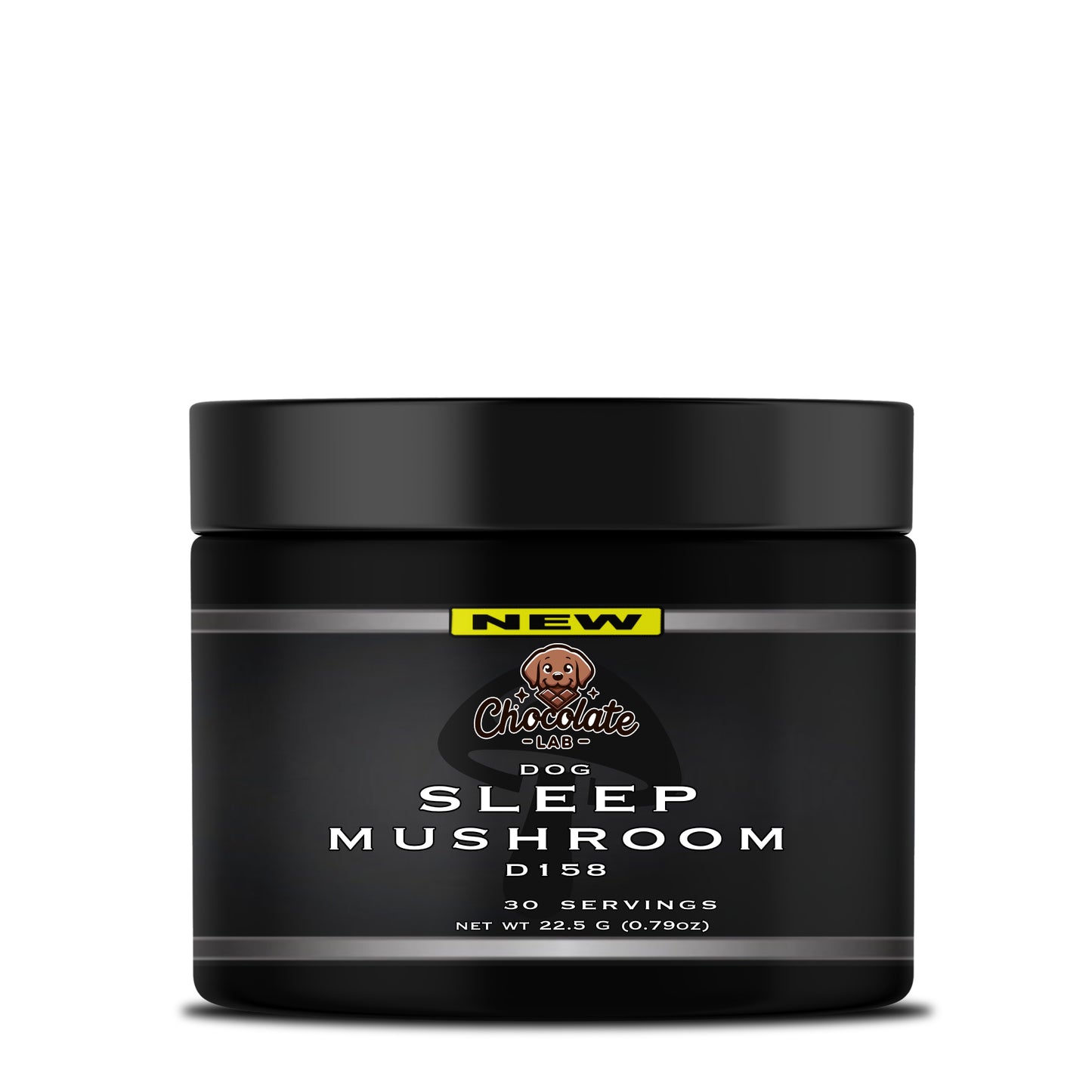 Exclusive Bundles we think you'll LOVE:
The Newest and Most Potent Mushroom SLEEP Formula on the Market for Your DOG!
✓ Discover the Advantages of D158 for Optimal SLEEP!

Discover the power of our unique formula, designed to enhance your dog's sleep quality. With Chocolate Lab Sleep Mushroom Dog D158, your four-legged companion will wake up refreshed and ready for the day.

CHOCOLATE LAB Mushroom Dog D158 excels in optimizing sleep performance by amplifying the body's natural healing and regenerative processes night after night. Its comprehensive approach promotes deep sleep, cognitive function, immune system strength, and long-term sleep quality.

✓ The Best Sleep Imaginable for your DOG
Grant your Dog the power of a rejuvenating night's sleep with our transformative pre-sleep rituals. Witness their effortless transition into dreamland and their refreshed, revitalized state upon waking!


✓ Have Your Dog Naturally Relax and Unwind
Embark on a journey with our revolutionary formula that taps into the power of melatonin and 7 Mushrooms to support your dog in achieving a calm and revitalized state after tackling a strenuous day.


✓ Good Sleep Benefits Your Canine's Entire Body
The D158 has been formulated with high-quality 7 Mushroom Blend, Ashwagandha, L-Theanine, and Magnesium Citrate. When taken as directed, CHOCOLATE LAB SLEEP Mushroom Dog D158 Formula can help your Dog reduce feelings of worry and stress while falling and staying asleep through the night.

✓ Ashwagandha

✓ Melatonin

✓ L-Theanine

✓ Reishi Mushroom

✓ Lion's Mane Mushroom

✓ Chaga Mushroom

✓ Turkey Tail Mushroom

✓ Maitake Mushroom

✓ Shiitake Mushroom

✓ Cordyceps Mushroom

✓ Magnesium Citrate

✓ MADE IN USA!

Experience the amazing benefits of the NEW CHOCOLATE LAB SLEEP MUSHROOM DOG D158. This extraordinary dog supplement is purely organic and free from GMOs. It is also gluten-free, vegan-friendly, lactose-free, and crafted exclusively from superior ingredients. We proudly consider it a golden supplement that embodies excellence.