Regular price
$69.98
Sale price
$66.95
Unit price
per
Sale
Sold out
Provide your canine with the energy and hydration they need with CHOCOLATE LAB FULVIC HUMIC DOG D369 - the Ultimate Solution!
Enhance your dog's well-being using the powerful combination of Fulvic Acid and Humic Acid Trace Minerals derived from nature. Unlike the minerals found in most dog food today, these acids provide the essential nutrients necessary for your dog's vitality. Unlock the amplified benefits of D396 by harnessing the absorptive qualities of Fulvic and Humic Acids, maximizing your dog's overall health and digestion.
✓ pH 10+
✓ Alkaline
✓ Fulvic Acid
✓ Humic Acid
✓ Electrolytes
✓ 77+ Trace Minerals
✓ Promote Gut Health
Experience the unbelievable impact of CHOCOLATE LAB FULVIC HUMIC DOG D369 - just add 1ml of drops to purified water or directly onto food and give once or twice daily (or as advised by your vet). Let your pup feel the power of this amazing supplement!
Serving size 1ml, 50 servings per container.
View full details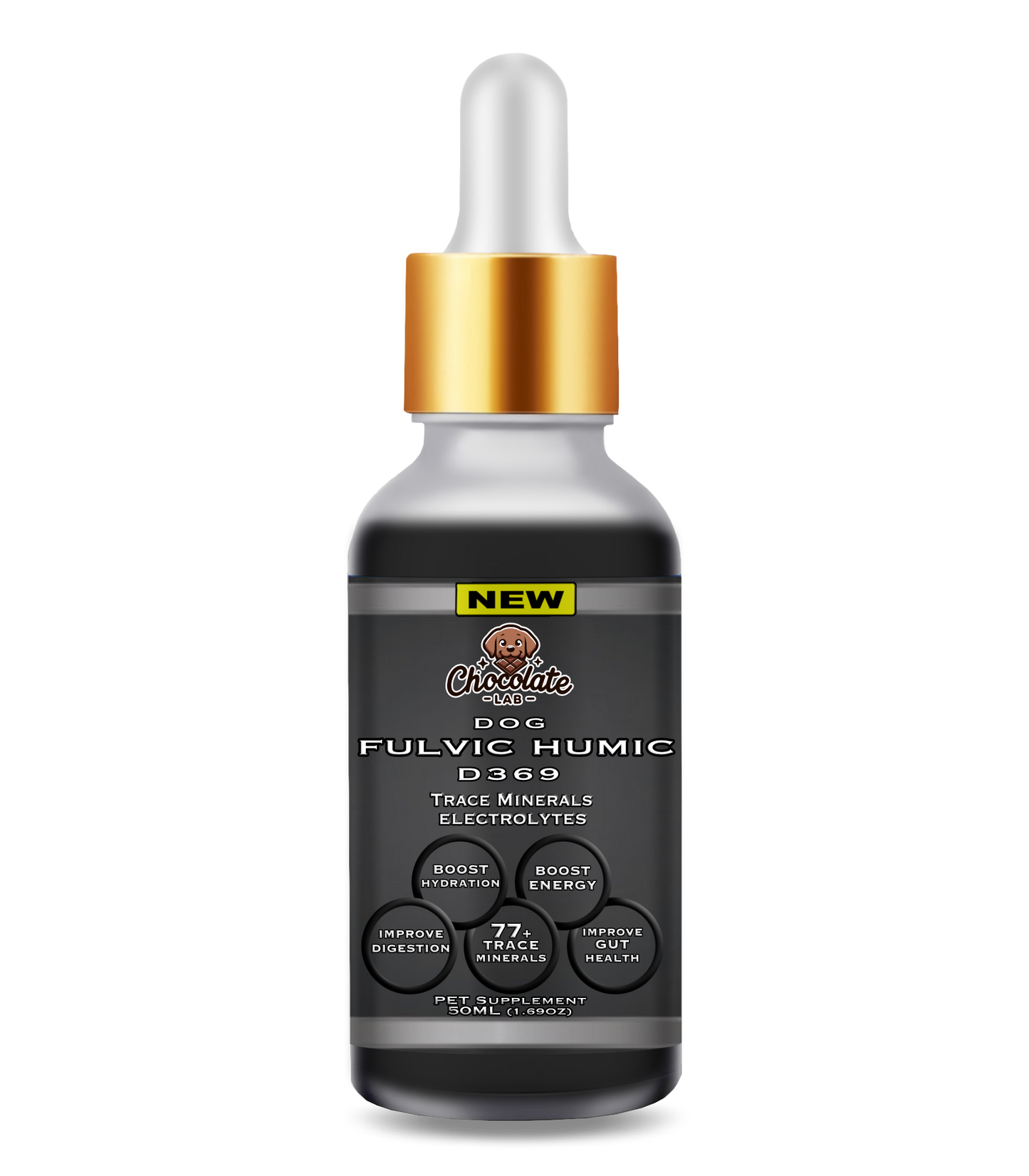 Exclusive Bundles we think you'll LOVE:
The Latest and Most Effective FULVIC HUMIC ACID Supplement for any Canine!
✓ ENHANCE Your Dog's HEALTH!

Ensure your furry companion is getting what they need for optimal health. Modern dog foods often fail to provide adequate minerals and amino acids necessary for their bodies to function at their peak. Give them the proper nutrients, multivitamins, and amino acids they require. Enhance absorption and transport to cells by exploring the incredible properties of Fulvic and Humic Acid, which have been shown to supercharge this process.

✓ QUALITY YOU CAN SEE!

By far the most Superior Pure Minerals from Humic and Fulvic acid in its natural state composed of ionic trace minerals electrolyte stamina drops and most importantly naturally alkaline and not water down. We consider our CHOCOLATE LAB FULVIC HUMIC DOG D369 liquid drops as the big miracle of mother nature since it's the ancient treasure buried deep beneath the earth with over 77+ trace minerals, the vital electrolytes in a powerful concentrate solution blend.

YOUR FURRY FAMILY MEMBER DESERVES THE BEST!

Let your DOG experience the ultimate in canine health with the Active Dog Hemp Bundle. Our powerful blend of Fulvic and Humic acid gives dogs a deep, rich color with 77+ natural trace minerals straight from nature. Enjoy improved immunity, energy, and overall wellbeing with this potent and natural formula.

✓ Fulvic Acid

✓ Humic Acid

✓ 77+ Trace Minerals

✓ Electrolytes

✓ MADE IN USA!

The NEW CHOCOLATE LAB FULVIC HUMIC DOG D369 is all Organic, non-gmo, gluten-free, vegan, lactose-free, and all-natural from mother nature, we like to think of it as the golden supplement. No Coal, No Chemicals, No Additives, No Artificial flavors or Colors, No Preservatives. Truly Natural and Made In the USA. Excellent for any Canine! Best part of all it is Naturally Alkaline with a pH of 10+