Regular price
$72.98
Sale price
$68.98
Unit price
per
Sale
Sold out
The CHOCOLATE LAB JOINT HIP MUSHROOM DOG D128 proprietary blend of natural components assists in joint health and mobility for all breeds of dogs, from athletic dogs to show dogs.
The D128 contains Glucosamine, which promotes the health of cartilage in joints. Chondroitin enhances joint mobility and flexibility. This formula is renowned for supporting healthy joints, reducing inflammation and alleviating joint pain, improving joint flexibility, allowing your dog to run freely.
✓ For All Dogs
✓ Alleviate Joint Pain
✓ Reduce Inflammation
✓ Improve Performance
✓ Improve Joint Flexibility
✓ Glucosamine
✓ Minimize Exercise induced Muscle Damage

For best results Sprinkle appropriate amount of CHOCOLATE LAB JOINT HIP MUSHROOM DOG D128 on top of Food and give once a day or as directed by vet.
Serving size 1 scoop, 30 servings per container.
View full details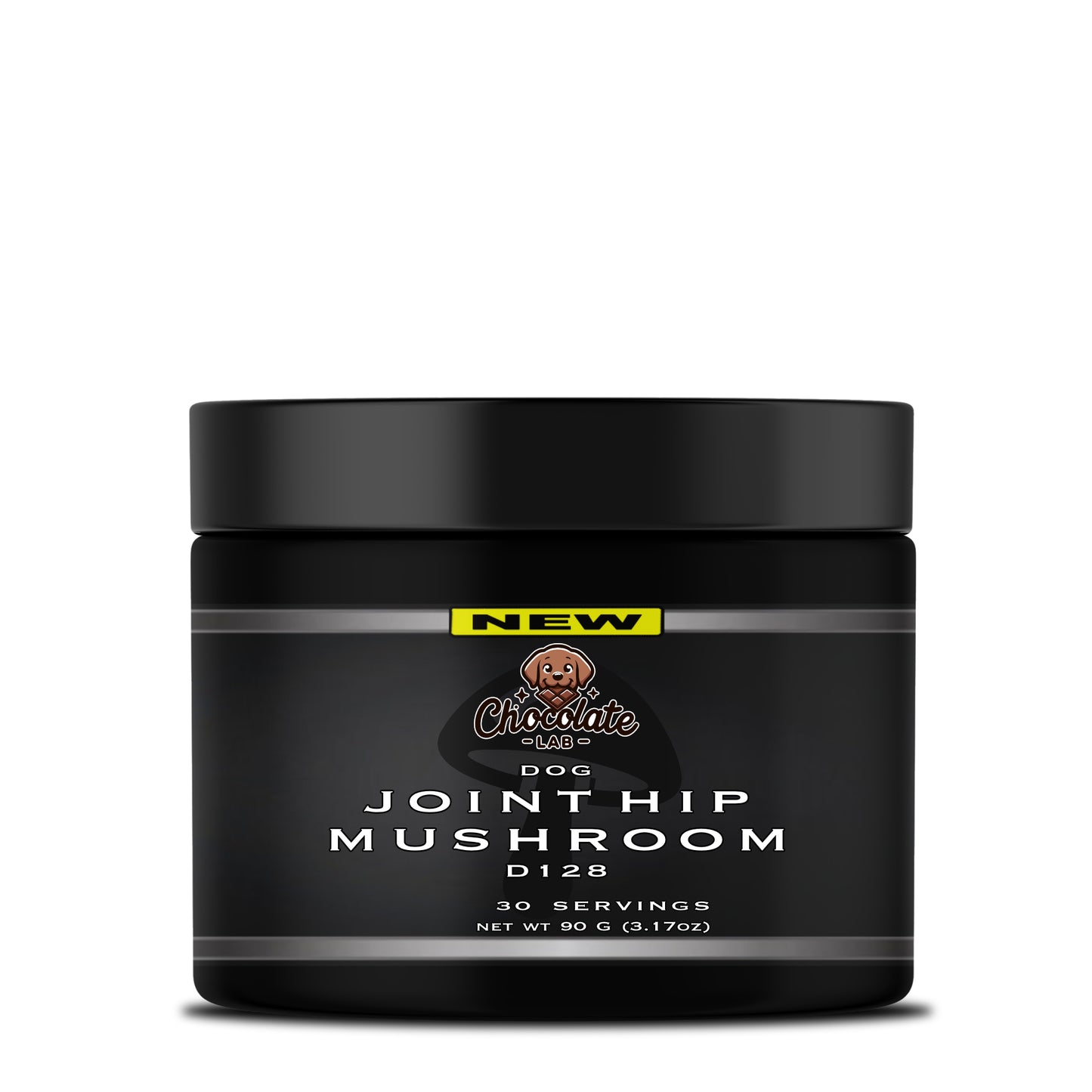 Exclusive Bundles we think you'll LOVE:
GUARANTEE YOUR DOG GETS THE SAME LEVEL OF CARE AS AN ATHLETE.
✓ Improve Joint Mobility

By incorporating Chocolate Lab Joint Hip Dog D128 into your dog's meals on a daily basis, you can contribute to their long-term joint health. Rather than waiting for them to show signs of limping, begin this regimen while they are young and they will appreciate it!


✓ Reduce Joint Inflammation
Alleviate the inflammation and painful joint conditions that your dog experiences. Commence the process of providing relief with just a few scoops, and witness healthier joints within a matter of weeks. Discover the wise choice made by dog owners who prioritize their dog's well-being with CHOCOLATE LAB JOINT HIP DOG D128.


✓ Healthy Joints
Support your dog's joint health with our high-potency CHOCOLATE LAB JOINT HIP DOG D128 supplement. Ideal for athletic dogs or older canines experiencing stiffness, this formula provides the additional support they need.

Key Ingredients

✓ Glucosamine

✓ MSM

✓ Chondroitin Sulfate

7 Mushroom Blend

✓ Reishi Mushroom

✓ Lion's Mane Mushroom

✓ Chaga Mushroom

✓ Turkey Tail Mushroom

✓ Maitake Mushroom

✓ Shiitake Mushroom

✓ Cordyceps Mushroom

✓ MADE IN USA!

Experience the amazing benefits of the NEW CHOCOLATE LAB SLEEP MUSHROOM DOG D158. This extraordinary dog supplement is purely organic and free from GMOs. It is also gluten-free, vegan-friendly, lactose-free, and crafted exclusively from superior ingredients. We proudly consider it a golden supplement that embodies excellence.

Moreover, it is proudly manufactured in the USA!