Regular price
$64.98
Sale price
$58.98
Unit price
per
Sale
Sold out
Experience the transformation of your mind, body, and spirit with CHOCOLATE LAB 10 IN 1 MUSHROOM X549.
This extraordinary blend combines 10 meticulously researched mycological species known for their ability to enhance mental clarity, boost immune function, and unleash natural energy.
✓ Improve Immune Function
✓ Improve Memory
✓ Promotes Longevity
✓ Assists Physical Performance
✓ Enhance Cognitive Functions
✓ Supports Liver & Kidney 
✓ Naturally Restore Youthfulness
✓ Boost Energy
✓ Excellent Nootropic 
✓ Boost Focus
For best results take 2 capsules once a day with an 8oz glass of water or as directed by your healthcare professional.
Serving size 2 capsules, 30 servings per container.
View full details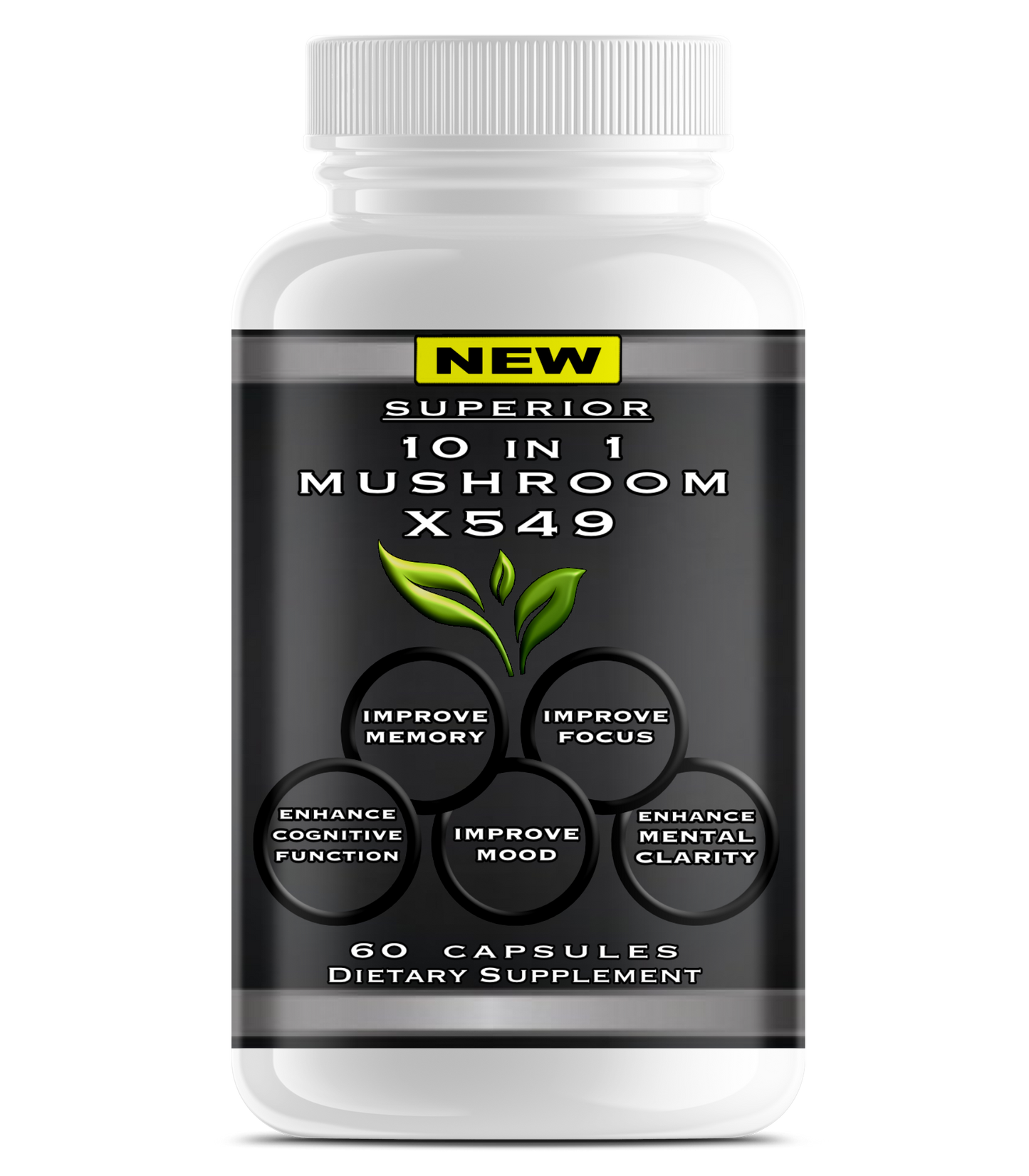 Unleash the Power of the Newest and Most Potent MUSHROOM COMPLEX on the Market!
✓ Unlock the Secrets to a THRIVING MIND!

Introducing the CHOCOLATE LAB 10X MUSHROOM X549, the ultimate 10-in-one mushroom supplement complex that provides a wide range of health benefits and is crucial for maintaining your well-being year-round. Our carefully crafted formula includes the ideal concentrations of each ingredient to ensure maximum support. Experience unparalleled vitality and enhanced wellness with our daily mushroom capsules!

✓ Improved Mood and Energy Levels

Immerse yourself in the world of Lion's Mane, a brain-boosting supplement that supports memory, focus, cognitive function, and mood. Experience heightened energy levels with Cordyceps as it optimizes ATP production and enhances your athletic endurance!

✓ Long Lasting Immune System Strength
Elevate your immune support with Reishi Mushroom Extract. Embrace a time-tested remedy that will safeguard your well-being and shield you from pesky bugs like the common cold. Discover the soothing properties of this exceptional mushroom extract.

Experience the benefits of CHOCOLATE LAB 10X MUSHROOM X549, a powerful supplement packed with 10 high-quality mushroom species.

MUSHROOM COMPLEX

✓ Lions Mane

✓ Reishi Mushroom Extract

✓ Shiitake Mushroom Extract

✓ Maitake Mushroom Extract

✓ Turkey Tail Mushroom Extract

✓ Chaga Mushroom Extract

✓ Royal Sun Agaricus Extract

✓ White Button Mushroom Extract

✓ Black Fungus Mushroom Extract

✓ MADE IN USA

Experience the amazing benefits of the NEW CHOCOLATE LAB 10 IN 1 MUSHROOM X549. This extraordinary supplement is purely organic and free from GMOs. It is also gluten-free, vegan-friendly, lactose-free, and crafted exclusively from superior ingredients. We proudly consider it a golden supplement that embodies excellence.

Moreover, it is proudly manufactured in the USA and is highly recommended for individuals on a Keto diet.