Regular price
$89.98
Sale price
$74.98
Unit price
per
Sale
Sold out
Ignite your fitness journey with our revolutionary compound that is scientifically formulated to amplify lean muscle growth and supercharge your testosterone production!
Unlock your full potential with our CHOCOLATE LAB T-BOOSTER X668 men's supplement, meticulously engineered to safely increase testosterone levels in men.
✓ 100% Natural and Hormone-Free
✓ IMPROVE STRENGTH
✓ INCREASE STAMINA
✓ BOOST METABOLISM
✓ MUSCLE GROWTH
✓ TESTOSTERONE PRODUCTION SUPPORT
✓ Enhances Performance in and Out of the GYM
For best results take 3 capsules before bedtime with an 8oz glass of water or as directed by your healthcare professional.
Serving size 3 capsules, 30 servings per container.
View full details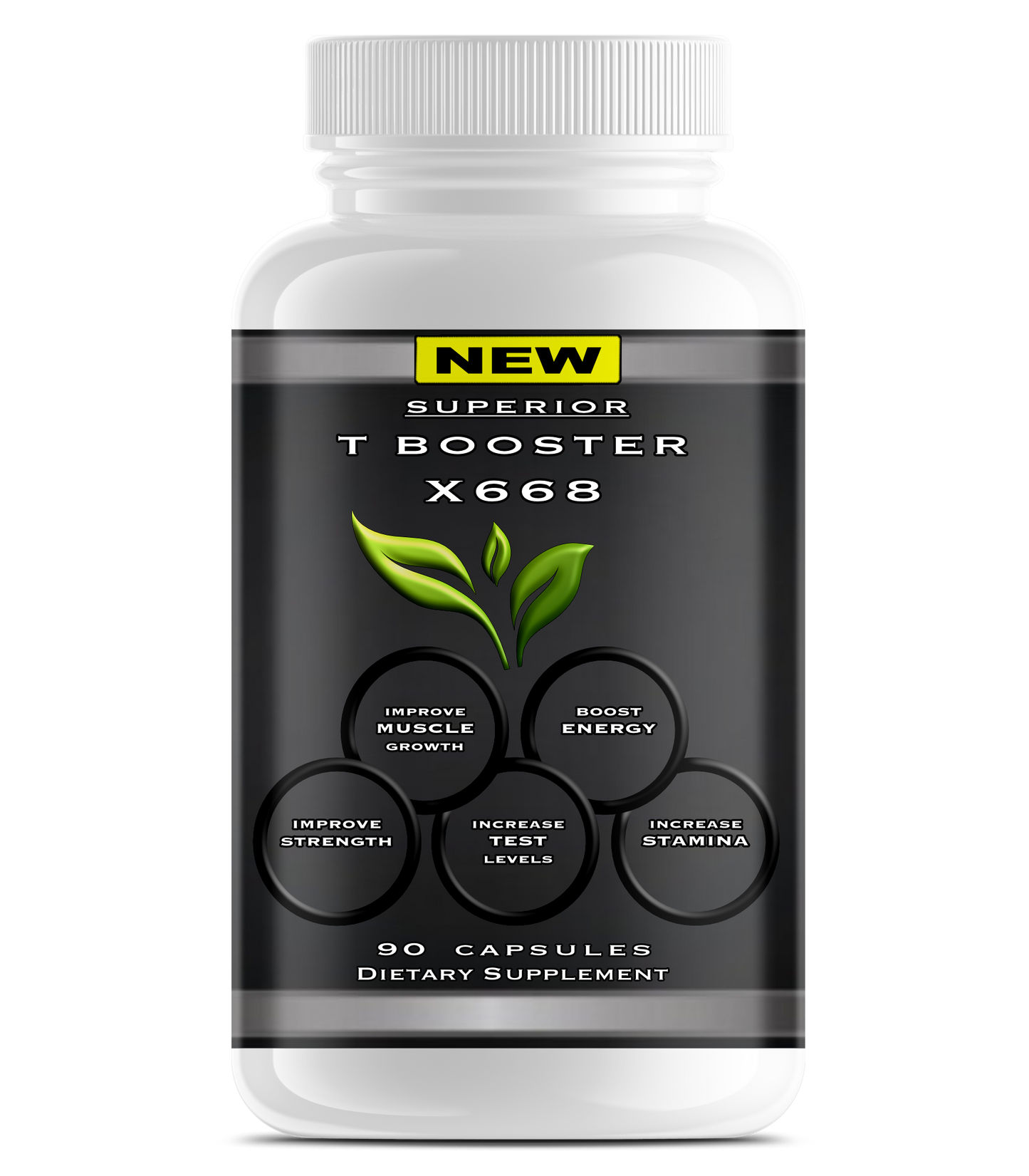 Exclusive Bundles we think you'll LOVE:
The X668 Blend Will Revitalize Your Energy and Keep You Feeling Young as the Years Go By!
✓ Explore the Benefits of X668 for Optimal TEST BOOSTER Results!

Step into a world of limitless possibilities with CHOCOLATE LAB T-BOOSTER X668. This exceptional natural supplement is designed to amplify your test levels, rejuvenate your drive and energy. Immerse yourself in the superb quality of its ingredients that unleash the enhanced performance inside and outside the GYM. Embrace the energy-boosting effects of X668 and accomplish all your tasks effortlessly, including invigorating nighttime workouts!

As your Test levels increase, your body becomes more capable of building muscle and lifting heavier weights during workouts. Rediscover the vitality of your youth and reclaim your Alpha energy. Experience the power of CHOCOLATE LAB T-BOOSTER X668, which also enhances your endurance in the areas that matter most.

✓ Experience heightened physical performance like never before!

When experiencing low testosterone levels, it can greatly impact your energy, strength, and stamina. That's why X668 Test is here to help. This natural test booster is designed to revitalize and restore your manhood, so you can feel like your best self again!


✓ Supercharge Your Muscle Growth and Inner Strength!

Unlock your true potential with our incredible daily supplement. It's designed to elevate your testosterone levels and empower you to sculpt a lean, muscular physique. Get ready to feel unstoppable!

✓ Enhance YOUR MOOD!

Boost your physical performance with X668! Experience enhanced stamina and confidence!
Experience the benefits of CHOCOLATE LAB T-BOOSTER X668, a supplement designed to naturally stimulate your body's testosterone production. Crafted with a precise blend of minerals and potent herbs, this formula aids in promoting hormonal balance, enhancing strength and muscle development, and accelerating recovery processes. Moreover, it offers long-lasting energy to fuel your daily activities.

ULTIMATE T BOOSTER BLEND

✓ Zink

✓ Magnesium

✓ Tribulus Terrestris

✓ Chrysin

✓ Horny Goat Weed

✓ Longjack

✓ Saw Palmetto Berries

✓ Cissus Quadrangularis

✓ MADE IN USA!

The NEW CHOCOLATE LAB T-BOOSTER X668 is a extraordinary supplement purely organic and free from GMOs. It is also gluten-free, vegan-friendly, lactose-free, and crafted exclusively from superior ingredients. We proudly consider it a golden supplement that embodies excellence.

Moreover, it is proudly manufactured in the USA and is highly recommended for individuals on a Keto diet.