Regular price
$64.98
Sale price
$58.98
Unit price
per
Sale
Sold out
Immerse yourself in the remarkable world of Omega-3 fatty acids and witness the transformative effects they have on your overall well-being.
Embrace the power of this natural ingredient to support a healthy heart, robust blood vessels, enhanced brain function, strong muscles, and a balanced inflammatory response.
✓ Improve Joint Flexibility

✓ Improve Visual Support

✓ Improve Brain Function
✓ Helps Maintain already Normal Triglyceride 
✓ Helps Maintain Healthy Cholesterol Levels
✓ Enhances Mood 
✓ Supports Cognitive Health
✓ Promotes a Healthy Inflammatory Response
For best results take 1 softgel 2-3 times daily with meals with an 8oz glass of water or as directed by your healthcare professional.
Serving size 1 softgel, 60 servings per container.
View full details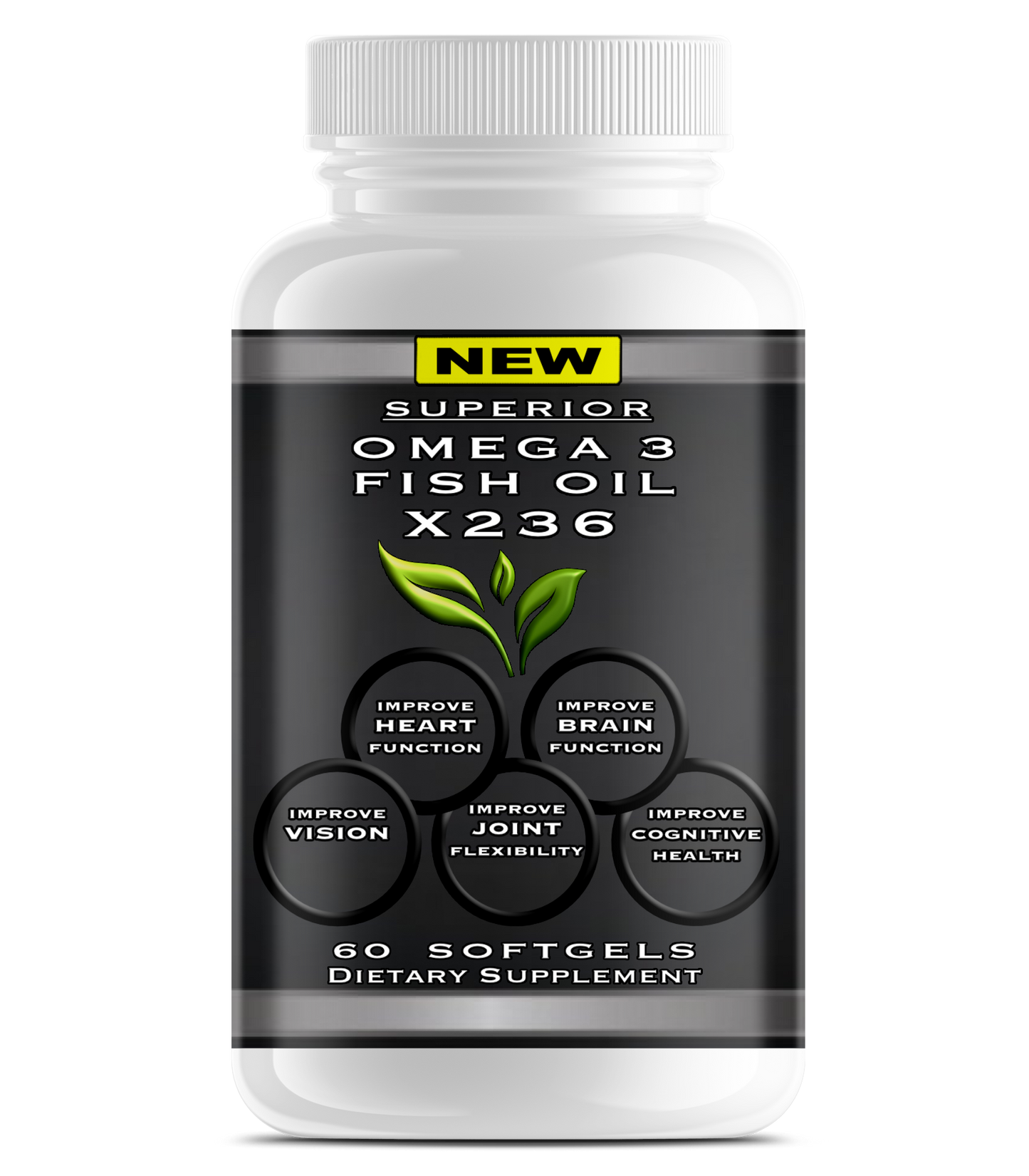 Exclusive Bundles we think you'll LOVE:
Unleash the Power of the Newest and Most Potent OMEGA-3 Formula on the Market!
✓ Uncover the Advantages of X236 for Maximizing Health Benefits

Experience the outstanding benefits of Superior Omega-3, the ultimate solution for individuals looking to support their blood lipids and enhance their cardiovascular health. With an exceptional concentration of EPA, this remarkable product is designed to provide unrivaled omega-3 fatty acid support.

✓ The Best OMEGA-3 Imaginable
Ensure proper brain function, heart health, eye health, joint support, and metabolic well-being with the inclusion of Omega-3 fatty acids

To receive them, your body relies on dietary sources as it cannot produce them naturally. DHA (docosahexaenoic acid) and EPA (eicosapentaenoic acid) are the two primary types.

✓ THE KEY TO WELL-BEING
Your brain, the retina of your eyes, and several other body parts rely on DHA as a key structural component.

✓ What can EPA do for your body?
Boost your health with EPA! Studies have shown that increasing your EPA intake can have a positive impact on coronary heart disease, high triglycerides, high blood pressure, and inflammation.

Indulge in the exceptional X236, carefully formulated with superior Wild Fish Oil that boasts the highest levels of Omega-3, EPA, and DHA. Experience convenience and quality in every softgel.

✓ OMEGA-3

✓ EPA

✓ DHA

✓ MADE IN USA!

Experience the amazing benefits of the NEW CHOCOLATE LAB OMEGA-3 X236. This extraordinary supplement is purely organic and free from GMOs. It is also gluten-free, lactose-free, and crafted exclusively from superior ingredients. We proudly consider it a golden supplement that embodies excellence.

Moreover, it is proudly manufactured in the USA and is highly recommended for individuals on a Keto diet.