Regular price
$64.98
Sale price
$58.98
Unit price
per
Sale
Sold out
Boost your Energy and achieve overall Wellness with our daily Multivitamin Blend. Feel your BEST every day!
Why settle for an ordinary multivitamin when you can experience the extraordinary benefits of X179? Our revolutionary formula goes beyond just being a multivitamin - it's an antioxidant powerhouse and an energy booster designed to fortify your immune system.
✓ Boost Your Immune System
✓

 Antioxidant Fruit Blend
✓ 20 Key Vitamins and Minerals
✓ Supports Muscle
✓ Supports Prostate
For best results take 2 capsules in the morning with a meal with an 8oz glass of water or as directed by your healthcare professional.
Serving size 2 capsules, 30 servings per container.
View full details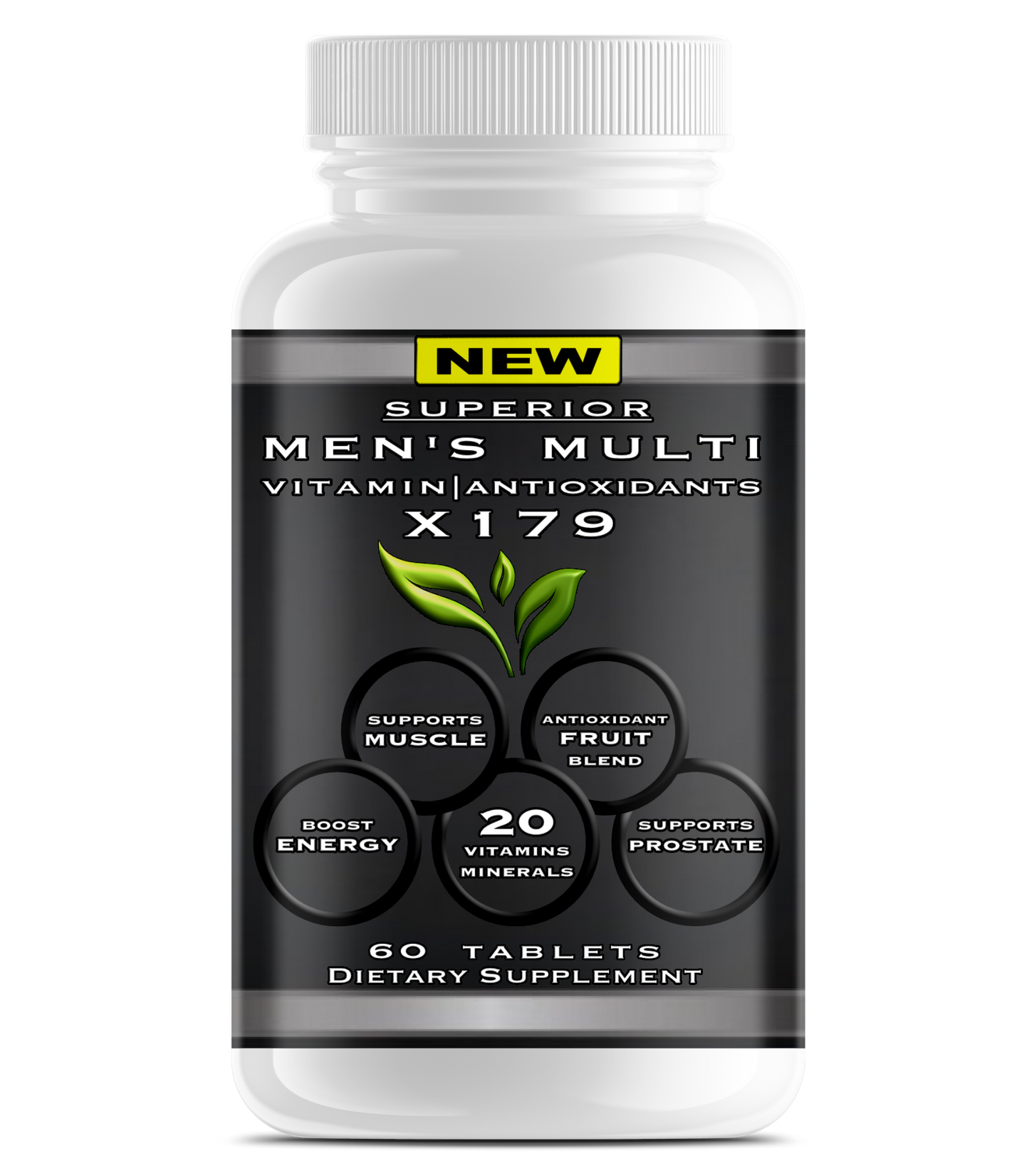 Exclusive Bundles we think you'll LOVE:
Discover the Power of this Exclusive Blend of Multivitamins, Minerals, and Antioxidants to Rejuvenate Your Energy!
✓ Ignite your Inner Power with Daily Nourishment of Vital Vitamins and Minerals!

Elevate your daily routine and indulge in the goodness of X179 Multivitamin. With a single easy-to-swallow capsule, you'll experience the convenience of 20 key vitamins and minerals, making it a delightful addition to your wellness journey!

When it comes to establishing a solid foundational health routine, taking a multi-vitamin/mineral supplement is crucial. Nutrition experts have long recognized a 'nutrition gap' between the nutrients we consume in our diet and what our bodies need for optimal health. This gap can be effectively filled by incorporating a daily multi-vitamin/mineral supplement into our routine. While it would be ideal to obtain all our necessary nutrients from a well-balanced diet, the reality is that this can be quite challenging.

✓ Energy & Antioxidants!

Experience the remarkable benefits of vitamin E, vitamin C, Bilberry Fruit Extract, and Pomegranate Fruit Extract as they infuse your skin and body with vitality. Make it a daily practice to indulge in this enriching blend for an awe-inspiring sense of wellness.


✓ Enhance your Vitality!

Experience the energizing and nourishing benefits of our carefully crafted vitamin blend, designed to support your vitality and enhance your overall wellness.


✓ Enhance your IMMUNE SYSTEM!

Boost your immune system with Chocolate Lab Men's Multi X179, a powerful blend of four essential ingredients such as Spirulina, Garlic, Echinacea and Beta Glucan.

Our experts have meticulously crafted a formula that combines folate & B12 for energy metabolism support, vitamin C and zinc for a strong immune system, and vitamin D for healthy bones. Feel the passion and inspiration in every word as we invite you to experience the transformative effects of this incredible product.

20+ VITAMINS & MINERALS

✓ VITAMIN A,B, C, D, E

✓ CALCIUM

✓ FOLATE

✓ BIOTIN

✓ ZINC

✓ MAGNESIUM

✓ SELENIUM

✓ CHROMIUM

✓ AND MORE....

ULTIMATE MALE SUPPORT

✓ Lutein

✓ Lycopene

✓ Stinging Nettle Extract

✓ Saw Palmetto

PRO IMMUNE SUPPORT

✓ Echinacea Extract

✓ Beta Glucan

✓ Spirulina

✓ Garlic

ULTRA ANTIOXIDANT & ENERGY BLEND

✓ Green Tea Extract

✓ Hawthorn Berries

✓ Cinnamon Bark Extract

✓ Bilberry Fruit Extract

✓ Grape Seed Extract

✓ Pomegranate Fruit Extract

✓ MADE IN USA!

Experience the amazing benefits of the NEW CHOCOLATE LAB MEN'S MULTI + ANTIOXIDANTS X179. This extraordinary supplement is purely organic and free from GMOs. It is also gluten-free, vegan-friendly, lactose-free, and crafted exclusively from superior ingredients. We proudly consider it a golden supplement that embodies excellence.

Moreover, it is proudly manufactured in the USA and is highly recommended for individuals on a Keto diet.