Regular price
$29.99
Sale price
$29.99
Unit price
per
Sale
Sold out
Supercharge Your Workouts with Fast-Absorbing Creatine HCl!
Achieve Superior Muscle GAINS with CHOCOLATE LAB CREATINE X231 powder. Add this micronized creatine to your pre-workout drinks, BCAA, or any supplement in your shaker cup and experience immediate energy support during exercise. Discover how this essential component also contributes to muscle protein synthesis.
✓ No Fillers

✓ 100% Pure

✓ Unflavored
✓ ENHANCE POWER
✓ ENHANCE STRENGTH

✓ GET PRIMED FOR GAINS
✓ ENHANCE PERFORMANCE
✓ PROMOTE CELLULAR HYDRATION

As a dietary supplement, mix 2 grams with 8 fl oz. of water or other beverage. Consume ample amounts of water while taking this product.
Serving size 2 grams, 30 servings per container.
View full details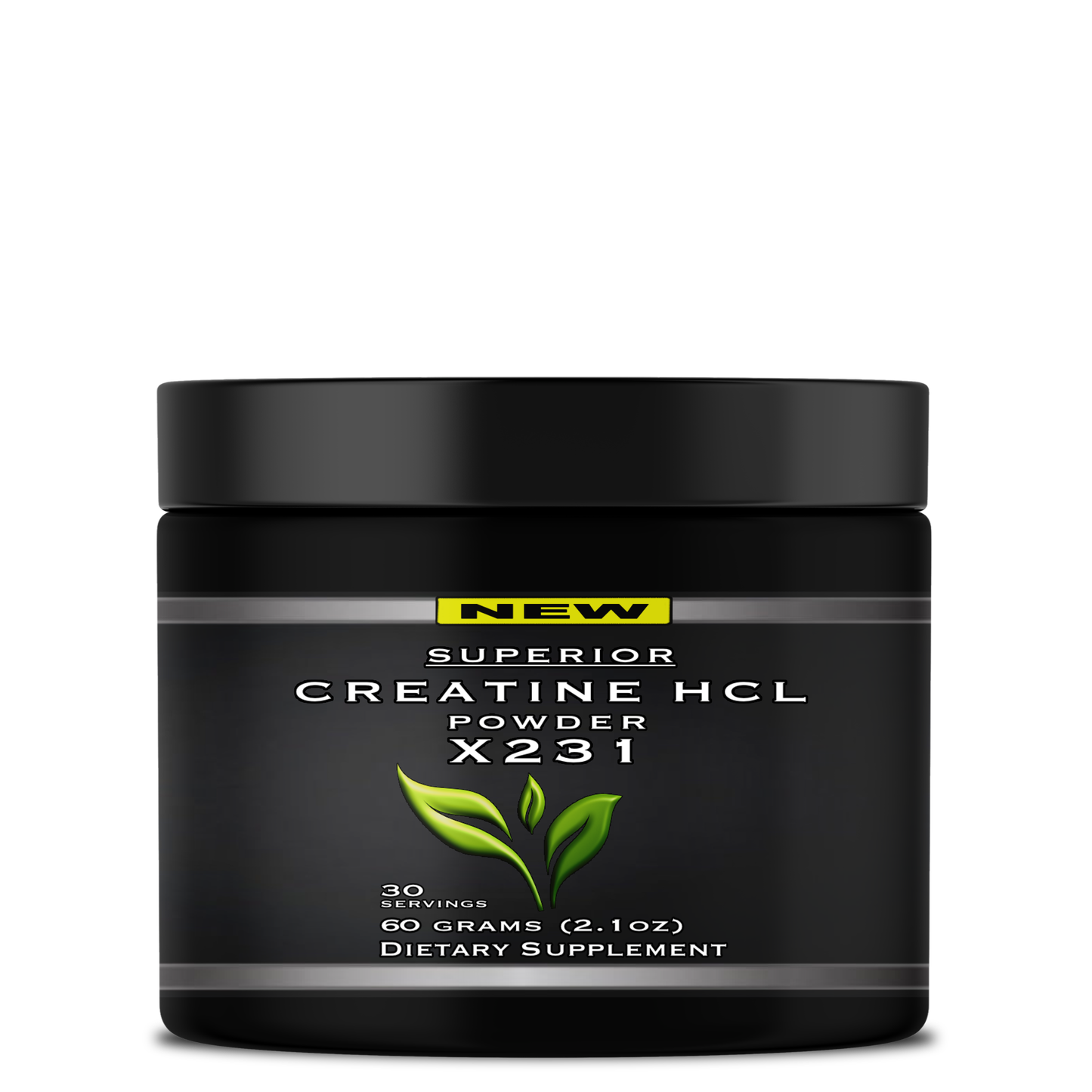 Exclusive Bundles we think you'll LOVE:
Discover the Power of this Exclusive CREATINE!
✓ Maximize your Performance with CREATINE HCL!

Unlock your body's potential with the use of Creatine, a potent compound that facilitates the synthesis and distribution of adenosine triphosphate (ATP) - the essential energy source required for intense physical training such as sprinting or weightlifting. Experience enhanced performance with CHOCOLATE LAB CREATINE X231 Creatine HCl powder, an unflavored alternative to traditional creatine monohydrate capsules, designed with rapid absorption capabilities to effortlessly integrate into your pre-, intra-, or post-workout shake.

When it comes to Creatine, not all options are equal. Opt for the most premium Creatine to ensure desired results. CHOCOLATE LAB CREATINE X231 is a top-quality product without any unwanted fillers. Scientifically proven to increase lean muscle mass, enhance anaerobic strength, support cognitive function, improve muscle recovery time, and provide sustained energy and endurance.

Obtaining adequate hydration is crucial for achieving your goals and avoiding disappointment. Incorporating creatine into your routine can enhance cellular hydration and potentially enhance your athletic performance. Discover the incredible benefits of CHOCOLATE LAB CREATINE X231 today.

✓AMPLIFY YOUR POWER, STRENGTH, AND PERFORMANCE

Creatine HCl enhances energy levels instantly during rigorous workouts and has the potential to boost athletic performance.


✓ PROMOTE CELLULAR HYDRATION!

Creatine aids in muscle fueling and enhances cellular hydration.


✓ GET PRIMED FOR GAINS

Muscle protein synthesis heavily relies on creatine, and supplementing with creatine can effectively boost creatine reserves in muscles.

Discover the power of creatine, one of the most well-researched and effective supplements on the market. Whether you're a beginner or an experienced athlete, creatine can enhance your performance and help you achieve your fitness goals. Join the countless individuals who rely on creatine as their go-to supplement for high-intensity sports.

NO FILLERS

✓ CREATINE HCL

Experience the amazing benefits of the NEW CHOCOLATE LAB CREATINE X231. This extraordinary supplement is purely organic and free from GMOs. It is also gluten-free, vegan-friendly, lactose-free, and crafted exclusively from superior ingredients. We proudly consider it a golden supplement that embodies excellence.

Moreover, it is proudly manufactured in the USA and is highly recommended for individuals on a Keto diet.