Regular price
$29.99
Sale price
$29.99
Unit price
per
Sale
Sold out
Supercharge Your FITNESS GOALS with CHOCOLATE LAB BETAINE X231!
CHOCOLATE LAB BETAINE X231 is formulated with pure Betaine HCL, a nutritional compound commonly found in beets. This compound has been clinically shown to enhance athletic performance by supporting strength and power.
✓ No Fillers

✓ 100% Pure

✓ Unflavored
✓ SUPPORT THE MUSCLES

✓ SUPPORTS DIGESTIVE HEALTH
✓ HELPS SUPPORT LIVER HEALTH

As a dietary supplement, mix 2.5 grams into 8 ounces of water, fruit juice or sports drink. For optimal results, split into two equal doses and take half before and half after working out. Works well in pre-workouts, BCAA's and/or proteins
Serving size 2.5 grams, 30 servings per container.
View full details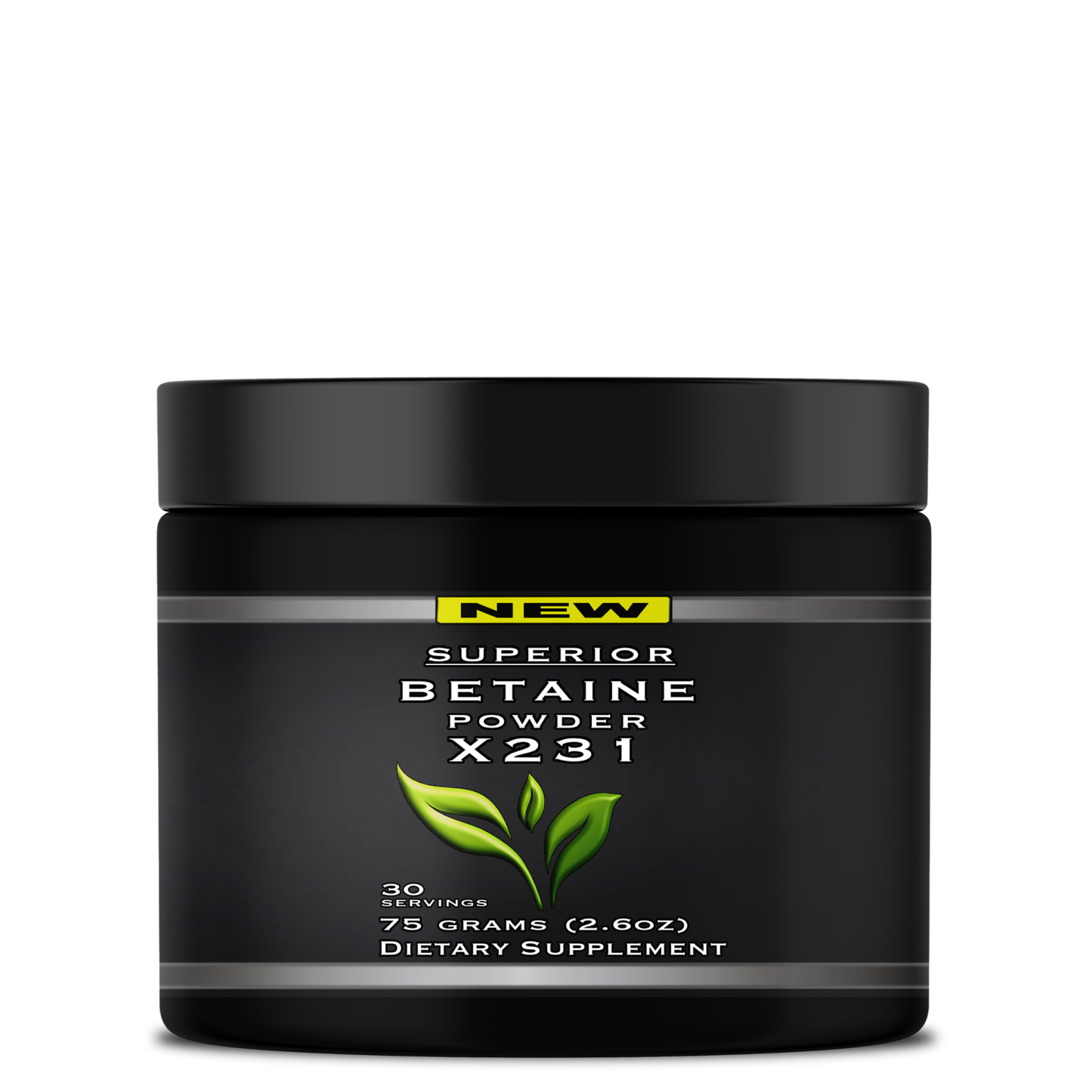 Exclusive Bundles we think you'll LOVE:
Unlock the Secrets OF PURE Betaine!
✓ Optimize your Performance with BETAINE!

The CHOCOLATE LAB BETAINE X231 consist of Betaine which is essential for optimizing physical performance during workouts or exercise. This powder, is particularly beneficial for athletes and individuals with active lifestyles who want to enhance their exercise capabilities. By incorporating this supplement into your routine, you can improve your endurance and achieve better results.

✓ BUILD LEAN MUSCLE MASS!

Achieve your fitness goals with the help of Betaine. This powerful compound supports muscle function, boosts endurance, maintains liver health, and enhances cardiovascular well-being. Supplementing with betaine anhydrous allows you to optimize your performance.

✓ PUSH BEYOND YOUR LIMITS!

If you're searching for a product that can assist in maintaining heart health, strengthening joints, and ensuring proper liver function, consider CHOCOLATE LAB BETAINE X231. This dietary supplement has been shown to promote a healthy cardiovascular system and contribute to digestive health and joint stability. Additionally, Betaine aids in the body's detoxification process, providing support for the liver.

Dietary Betaine supplies essential compounds that promote regular cell growth, a robust cardiovascular system, and proper liver function.

Betaine is present in vegetables, salmon, shrimp, and some grain products as a natural component.

It works together with folate, Vitamin B-6, and Vitamin B-12 to support the maintenance of normal homocysteine levels.

NO FILLERS

✓ BETAINE HCL

Experience the amazing benefits of the NEW CHOCOLATE LAB BETAINE X231. This extraordinary supplement is purely organic and free from GMOs. It is also gluten-free, vegan-friendly, lactose-free, and crafted exclusively from superior ingredients. We proudly consider it a golden supplement that embodies excellence.

Moreover, it is proudly manufactured in the USA and is highly recommended for individuals on a Keto diet.