Regular price
$68.96
Sale price
$58.98
Unit price
per
Sale
Sold out
Time to Feel Energized with CHOCOLATE LAB B12 DROPS X798!
Formulated for superior effectiveness, CHOCOLATE LAB B12 DROPS X798 aids in increasing energy levels, improving cardiovascular health, enhancing energy metabolism, promoting digestive health, providing antioxidant support, boosting immune system strength, and optimizing cognitive function.
✓ Raspberry Flavor

✓ Supports Cell Growth
✓ Elevate Energy Levels
✓ Improves Cognitive Function
✓ Improve Overall Health
✓ Supports Red Blood Cell Production

✓ Supports Nerve tissue health
✓ Assists with Nausea
✓ May Boost Muscle Mass & Strength

For best results, shake well before use. Adults, place one full dropper (1ml) in mouth or as directed by your healthcare professional.
Serving size 1 mL, 60 servings per container.
View full details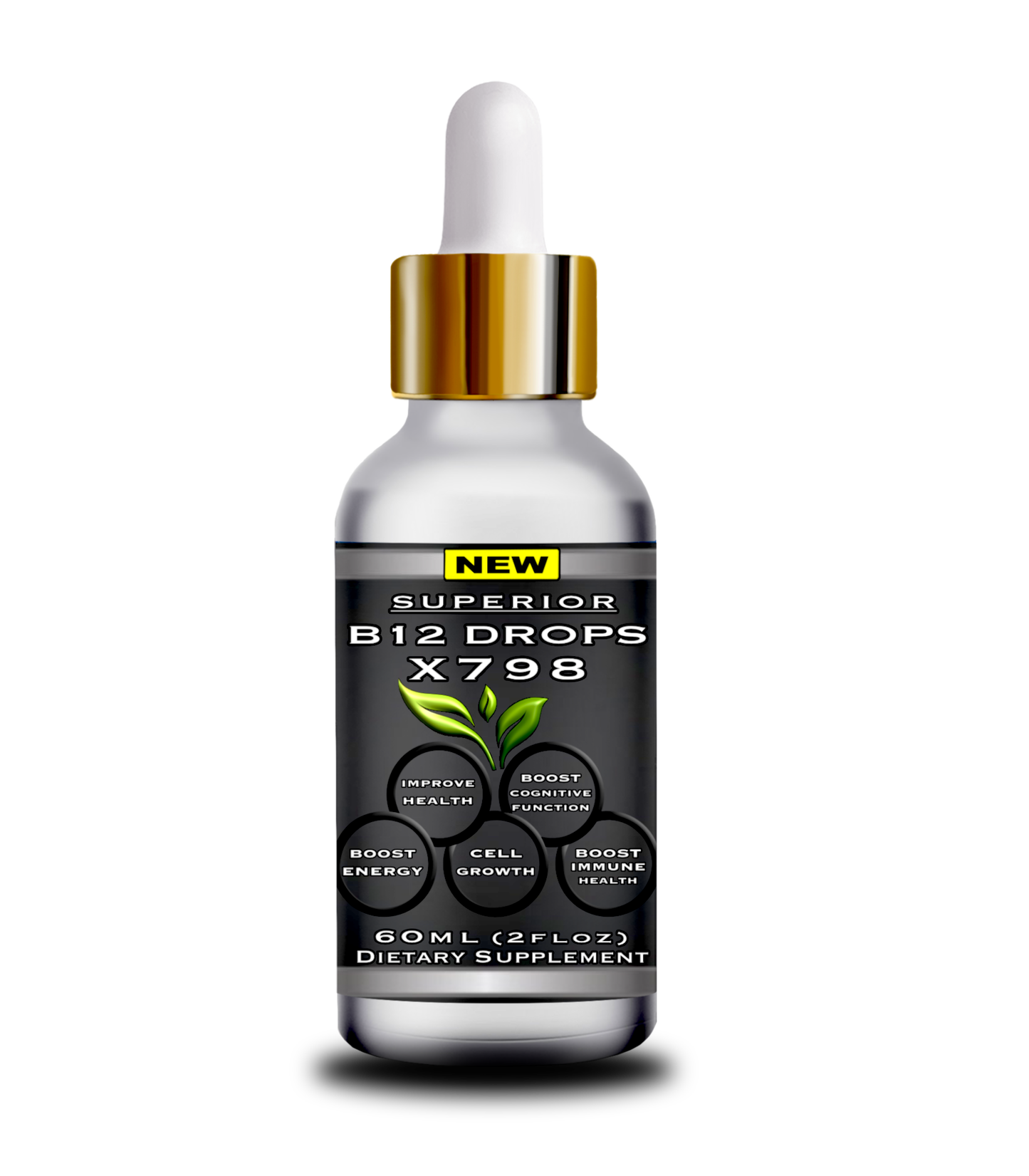 Exclusive Bundles we think you'll LOVE:
Explore the Link Between B VITAMINS and ENERGY!
✓ Elevate Your Energy Levels!

The CHOCOLATE LAB B12 Drops X798 contains a blend of the most important components of the Vitamin B complex. Vitamin B2 also known as Riboflavin which is a crucial component for the proper development and function of the skin and digestive tract lining.

Niacin which is also known as Vitamin B3 is necessary for optimal fat and sugar function in the body, as well as maintaining healthy tissue. Vitamin B6 (Pyridoxine) is essential to maintain adequate energy levels. Last but not least is Vitamin B12 (Cyanocobalamin) which is a vital vitamin required for the proper development of multiple body systems and tissues. Insufficient levels of B12 can lead to issues like memory loss and fatigue.

✓ BOOST ENERGY LEVEL with CHOCOLATE LAB B12 DROPS X798

Support energy production with Vitamin B-12 Drops. These drops work by supporting adrenal glands, forming red blood cells, and converting carbohydrates into glucose. Fuel your body with the liquid supplement and vegan b12 supplement for sustained energy. If you're feeling constantly tired, it may be due to a lack of Vitamin B12. Keep your energy levels up throughout the day by incorporating B12 into your routine.



✓ Discover the Advantages of X798 for Optimal ENERGY!

The Chocolate Lab B12 Drops X798 is a high-quality product that combines a potent blend of top-tier B vitamins into a powerful liquid formula. This advanced formula is designed to provide optimal energy.

Vitamin B Complex Blend

✓ Vitamin B12

✓ Vitamin B6

✓ Vitamin B5

✓ Vitamin B3

✓ Vitamin B2

Experience the amazing benefits of the NEW CHOCOLATE LAB B12 DROPS X798. This extraordinary supplement is purely organic and free from GMOs. It is also gluten-free, vegan-friendly, lactose-free, and crafted exclusively from superior ingredients. We proudly consider it a golden supplement that embodies excellence.

Moreover, it is proudly manufactured in the USA and is highly recommended for individuals on a Keto diet.