Regular price
$74.98
Sale price
$69.98
Unit price
per
Sale
Sold out
Boost your Energy and Achieve Weight Loss while Promoting Overall Wellness with our 3 in 1 X558.
Why settle for an ordinary weight loss supplement when you can experience the extraordinary benefits of X558? Our revolutionary formula goes beyond just being a weight loss product - it's an Energy BOOSTER, THERMOGENIC, AND A LIPOGENIC powerhouse designed to HELP YOU ACHIEVE YOUR GOALS.
✓ Enhance Mental Focus
✓ Boost Muscle Strength
✓ Boost Fat LOSS
For best results take 1 capsules in the morning 8oz glass of water or as directed by your healthcare professional. Do not take past 4pm. Do Not exceed 2 capsules within 24 hour period.

Serving size 2 capsules, 30 servings per container.
View full details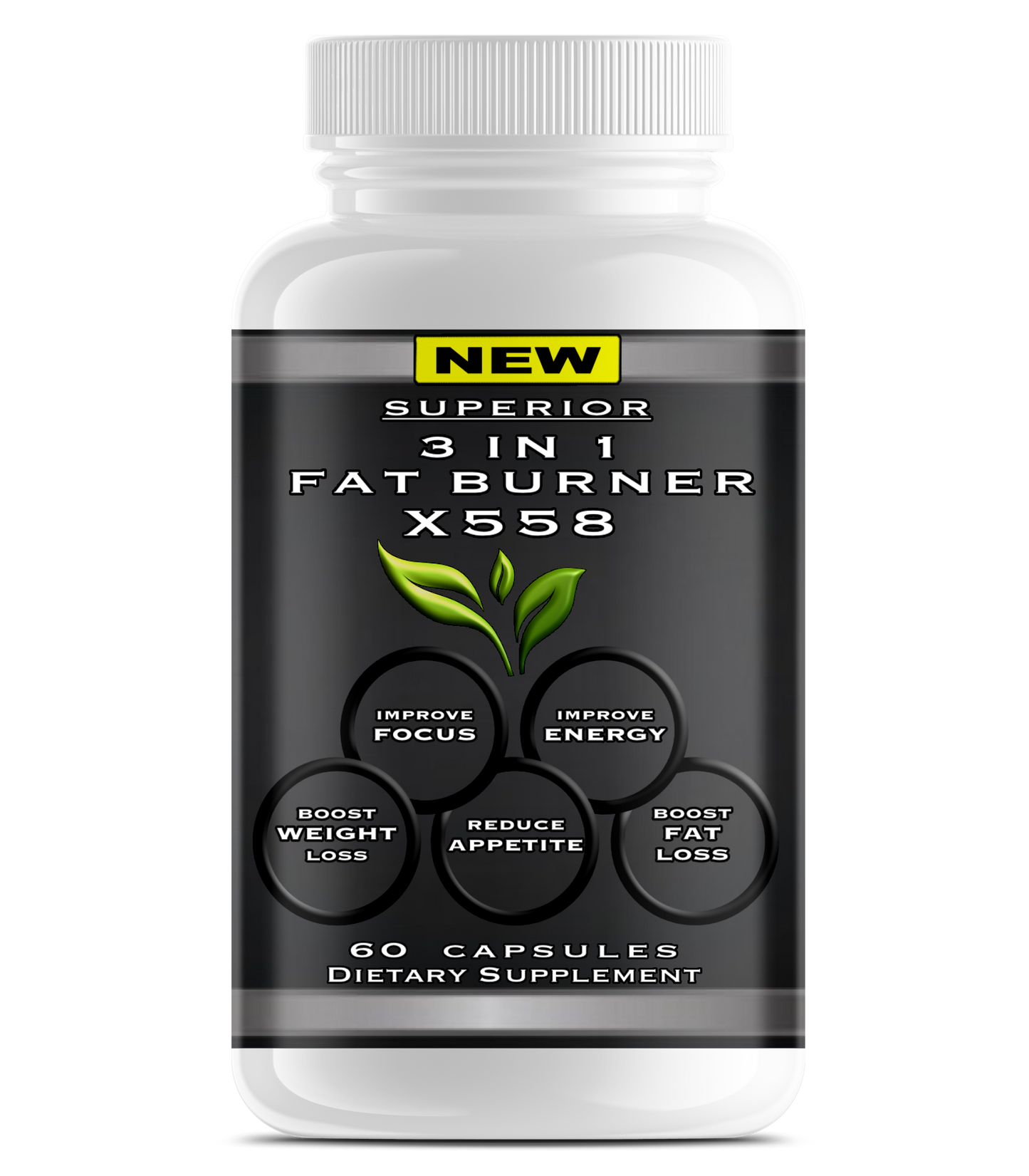 Exclusive Bundles we think you'll LOVE:
Melt Fat, Improve Mental Clarity, and Elevate Stamina!
✓ Unlock the Secrets LOOSING WEIGHT! GIVE YOUR BODY WHAT IT DESERVES!

To achieve a healthy weight, it is crucial to incorporate a weight loss
supplement into your routine, along with exercise and diet. Scientific
experts have long recognized that a quality weight loss supplement
complements exercise and a healthy diet, providing optimal results.
Consider incorporating the X558 supplement into your routine to
effectively fill this gap.

✓ THERMOGENSIS BLEND!

Harness the incredible power of our Thermogenesis Blend to supercharge your metabolism and achieve your weight loss goals. Feel the transformative effects of natural ingredients like Raspberry Ketones and Green Tea Extract as they work their magic.


✓ ENHANCE ENERGY & YOUR MENTAL FOCUS!

Enhance your Energy and Mental focus and unlock your full potential with our cutting-edge cognitive supplement. Experience mental clarity like never before.


✓ LIPOGENIC BLEND!

Feel the fire within you as our FAT BURNER ignites your metabolism and helps you achieve your weight loss goals. Experience the power of our product and unlock a healthier, fitter version of yourself.

Discover X558 cutting-edge 3 in 1 formula, carefully crafted by our experts. This powerful blend of Energy, Focus, Thermogenesis, and Lipogenesis will help you shed those unwanted pounds while keeping you focused and full of energy. Say goodbye to dull workouts and hello to an exciting weight loss journey!

ENERGY AND FOCUS BLEND

✓ Caffeine

✓ Phenylethylamine

✓ Glucamannan

✓ L-Tyrosine

THERMOGENESIS BLEND

✓ Raspberry Ketones

✓ Yohimbe Bark

✓ Green Tea

✓ EGCG

LIPOGENIC BLEND

✓ Kola Nut

✓ L-Carnitine

Experience the amazing benefits of the NEW CHOCOLATE LAB 3 IN 1 FAT BURNER X558. This extraordinary supplement is purely organic and free from GMOs. It is also gluten-free, vegan-friendly, lactose-free, and crafted exclusively from superior ingredients. We proudly consider it a golden supplement that embodies excellence.

Moreover, it is proudly manufactured in the USA and is highly recommended for individuals on a Keto diet.