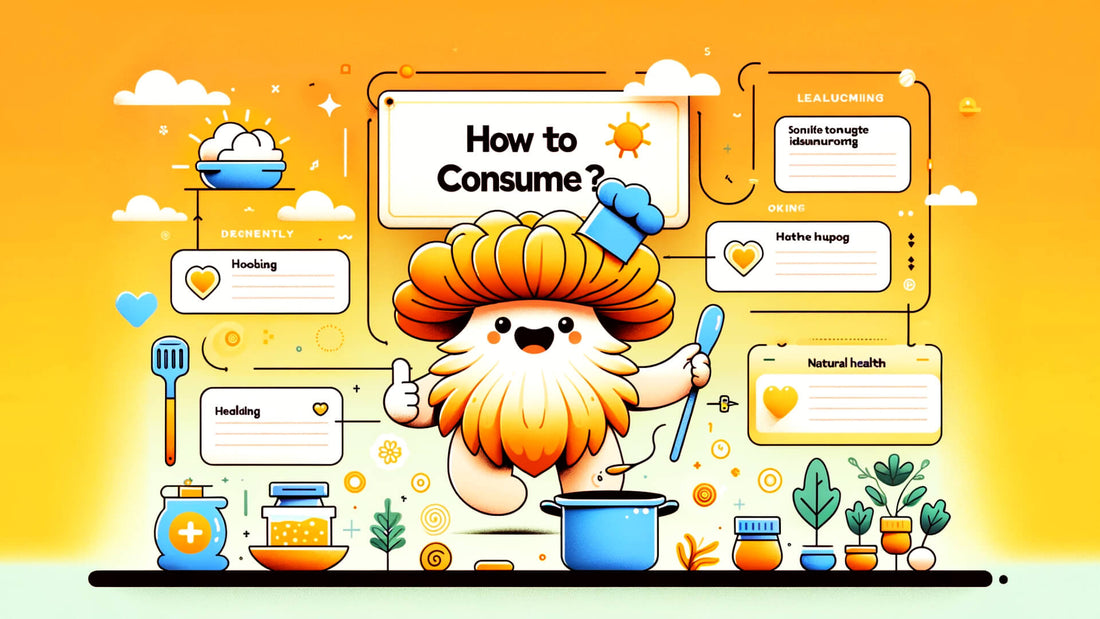 Best Way To Consume Lion's Mane in 2024
How to Consume Lion's Mane: A Comprehensive Guide
Table of Contents
---
Introduction - Lion's Mane
Do you hear the roar of health calling? Meet Lion's Mane Mushroom, your ally in the jungle of cognitive enhancement, immune support, and so much more. This comprehensive guide aims to provide you with a banquet of ways to consume and appreciate the marvel that is Lion's Mane Mushroom. Let's set the table!
---
Understanding Lion's Mane Mushroom
Introduction to Lion's Mane Mushroom
Officially named Hericium erinaceus, Lion's Mane is more than just a fascinating name. Its roots dig deep into the soil of traditional medicine, notably in China and Japan. There, it's not only appreciated for its unique, somewhat fluffy appearance but also its medicinal properties.
Appearance, Flavor, and Nutritional Profile
Imagine a soft, white, cascading waterfall of spines—that's Lion's Mane for you. Its flavor profile is as intriguing as its look, often compared to seafood like crab or lobster. Nutritionally, it's a powerhouse packed with antioxidants, beta-glucans, and other vital nutrients.
👉 For more in-depth information, you can check our blog: What is Lion's Mane Mushroom?
---
Available Forms of Lion's Mane Mushroom
Forms Overview
There's more than one way to skin a cat, and definitely more than one way to consume Lion's Mane. You can find it in various forms:
Powder
Capsules
Tinctures
Extracts
Pros and Cons Table
| Form | Pros | Cons |
| --- | --- | --- |
| Powder | Easy to mix in food and drinks | Flavor may be strong for some |
| Capsules | Convenient and travel-friendly | Fixed dosage |
| Tinctures | Quick absorption | Alcohol-based options available |
| Extracts | Concentrated benefits | Potentially more expensive |
Recommended Product: If you're a fan of powders and love to experiment, you might want to check out our Superior 10X MushroomX549.
---
Ways to Consume Lion's Mane Mushroom Powder
Five Methods of Consumption
The powdered form gives you a playground of possibilities. Here are five ways to incorporate Lion's Mane powder into your daily routine:
Hot Beverages: Elevate your morning coffee or tea.
Smoothies: Blend it into your favorite smoothie recipe.
Soups: Add it to soups for a nutritional boost.
Cooking: Use it in sautéed dishes and sauces.
Baking: Incorporate into bread, muffins, or cookies.
👉 Check out: Top 10 Juice Recipes for Gut Health for more recipe ideas.
Benefits and Convenience
Why choose powder? It's versatile, easy to measure for custom dosages, and quick to mix into various food and drinks. You can easily make it a seamless part of your wellness routine.
---
Dosage Guidelines for Lion's Mane Mushroom
Recommended Dosage
How much is too much, or just right? Most recommendations hover around 500–3000 mg per day. However, it's always a smart move to start small.
Factors Influencing Dosage
Age: Older individuals may need a different dosage.
Health Conditions: Existing conditions could influence how you react to Lion's Mane.
Sensitivity: Personal tolerance can vary widely.
Recommended Product: Optimize your digestive health while consuming Lion's Mane with our Superior Digestive Enzyme X485.
---
Potential Benefits of Lion's Mane Mushroom
Health Benefits
From sharpening your mind to shielding your cells, Lion's Mane is a jack-of-all-trades. Some of its most buzzed-about benefits include:
Cognitive Enhancement: May support memory and focus.
Nerve Regeneration: Promising in nerve growth factor stimulation.
Immune Support: Could help in boosting your immunity.
Anti-Inflammatory: Potential in reducing inflammation.
👉 Dig Deeper: Does Lion's Mane Help with Dementia?
Scientific Studies and Anecdotal Evidence
Various scientific studies show the potential of Lion's Mane in cognitive enhancement and nerve growth. Anecdotal evidence also suggests its effectiveness in improving mood and reducing anxiety.
---
Tips for Maximizing Lion's Mane Mushroom's Effects
Suggestions for Optimization
Combo with Adaptogens: Consider combining it with adaptogenic herbs like Ashwagandha.
Consistency: Regular intake may offer cumulative benefits.
Healthy Lifestyle: Exercise and balanced nutrition amplify the effects.
Recommended Product: Our Nootropic Focus Bundle is perfect for those looking to optimize cognitive function alongside Lion's Mane.
---
Safety Considerations and Potential Side Effects
Safety Overview
Lion's Mane is generally considered safe, but always remember, individual experiences can vary.
Possible Side Effects
Allergic reactions
Gastrointestinal discomfort
👉 Caution: Consult your healthcare professional if you have existing conditions or are on medication. Is Lion's Mane Safe While Breastfeeding?
---
Quality and Sourcing Considerations
Importance of Quality Sourcing
When sourcing Lion's Mane, it's vital to go for products from reputable suppliers focusing on quality, transparency, and sustainability.
Tips for Choosing Lion's Mane Products
Opt for certified organic.
Check for lab tests and certifications.
Read customer reviews.
Recommended Product: For quality assurance, look into our Superior 10X MushroomX549.
---
Conclusion - Best way to Consume Lion's Mane
So there you have it—a full-circle guide on consuming Lion's Mane, from its historical roots to its wide range of forms and benefits. But remember, like any supplement, individual experiences may vary. Always consult your healthcare provider, and enjoy your journey into the world of this remarkable mushroom.
FAQs about Lion's Mane
Q: Can I consume Lion's Mane daily?

A: Yes, regular consumption is often recommended for cumulative benefits.

Q: Is it vegan-friendly?

A: Most forms of Lion's Mane are vegan-friendly, but always check the label.

Q: Can I mix Lion's Mane with other supplements?

A: Generally, yes, but consult your healthcare provider to avoid potential interactions.
Recommended Product: Complete your wellness journey with our Wellness Drops Bundle.
Ready to unleash the Lion within you? 🦁
---
Disclaimer: The statements in this article have not been evaluated by the Food and Drug Administration. The products mentioned are not intended to diagnose, treat, cure, or prevent any disease. Consult your healthcare provider for personalized medical advice.