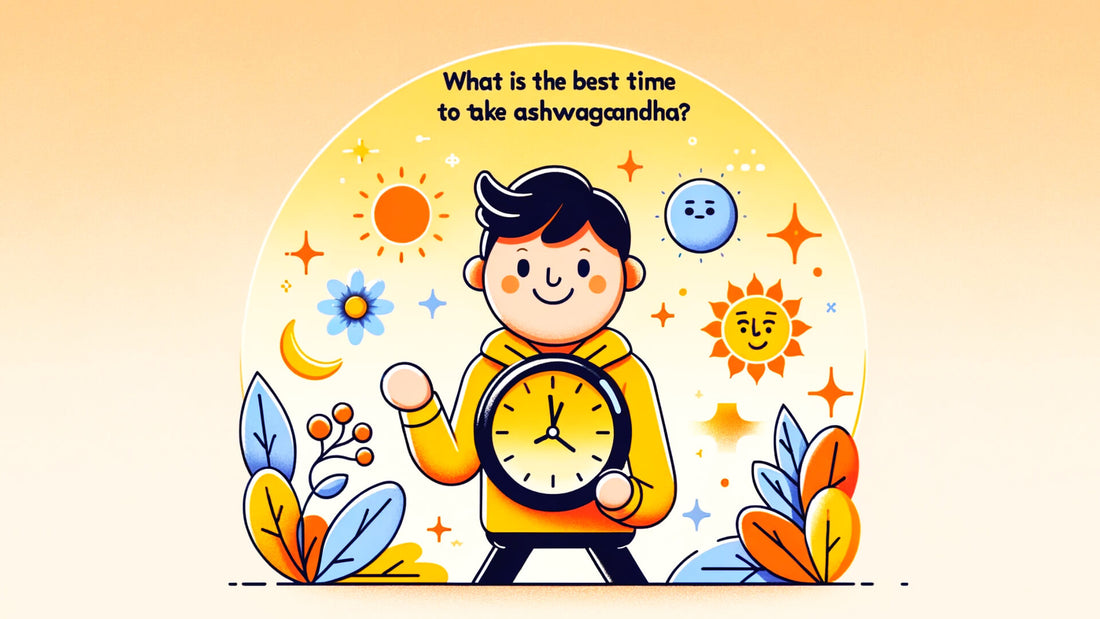 What is the Best Time to Take Ashwagandha?
Best Time of Day to Take Ashwagandha: In the Morning or at Night? 
Table of Contents
Introduction
When it comes to Ashwagandha, timing isn't just a detail; it's an art form. This age-old Ayurvedic herb is akin to a Swiss Army knife in the wellness world, boasting an array of benefits that can transform your health. But the magic lies not just in what it does, but also when you let it do its job. Behold, the enigma of timing—our focus in this revamped, in-depth guide to consuming Ashwagandha like a pro.
The Legend and Lore: What is Ashwagandha?
Historical Roots and Global Reach
Ashwagandha is more than just a plant; it's a cultural icon. Originating in the mystical lands of India, it has crossed the seas to etch its mark on a global scale. Its name, a Sanskrit revelation, translates to "strength of a stallion." The herb promises vitality, and boy, does it deliver!
Where Ashwagandha Flourishes
It's a globetrotter of a plant, thriving in the sandy soils of India, the Middle East, and even parts of Africa. Its resilience is a metaphor for what it can do for your health—adapt and thrive.
Ashwagandha's Many Avatars
Capsules
Powders
Tinctures
Teas
Table 1: Choosing Your Ashwagandha Avatar
| Form | Ideal For |
| --- | --- |
| Capsules | Sheer Convenience |
| Powder | Culinary Freedom |
| Tinctures | Rapid Absorption |
| Teas | Gentle Dosage |
Proven Health Benefits: Why Ashwagandha Reigns Supreme
Let's talk facts, not fluff. Ashwagandha is not just another herb on the block; it's the LeBron James of adaptogens.
The Ashwagandha Advantage:
Stress-Buster: Neutralizes cortisol like a pro.
Sugar Sheriff: Regulates blood sugar levels, keeping them in check.
Muscle Maven: Enhances athletic performance.
Fertility Friend: Revitalizes sperm quality.
Brain-Boosting: Cognitive functions, consider yourselves blessed.
Guardian Against Inflammation: Think of it as your body's antivirus software.
All-Rounder: From cardiovascular wellness to thyroid balance, it does it all.
Keen to dive deeper? Our How Long Does Ashwagandha Take to Work blog post has got you covered.
Timing is Everything: Do I Take Ashwagandha In the Morning or Night?
Morning Rituals: Jump-Start Your Day
Benefits of Morning Intake
Let Ashwagandha be your morning alarm for your adrenal glands. By regulating cortisol, it sets a balanced tone for your day, enhancing focus and productivity.
The Morning Game Plan
Stress Control: Prepares you for the daily grind.
Productivity Boost: Helps you navigate your task list with finesse.
Nighttime: Unwind and Rejuvenate
Benefits of Evening Intake
Taking Ashwagandha at night is like hiring a personal lullaby singer for your nervous system. It helps you transition from the chaos of the day to the serenity of nighttime.
The Nighttime Necessities
Sleep Inducer: Fosters a tranquil sleep environment.
Relaxation: Calms the mind and relaxes the body.
Note: Our SUPERIOR ASHWAGANDHA X212 is a versatile hero, ideal for both dawn and dusk.
Dosage 101: How Much Ashwagandha is Just Right?
Dosage Recommendations
General Intake: 300–500mg per day
For Stress: 600mg daily
For Blood Sugar: 250mg daily
For Muscle Growth: Up to 1000mg daily
Still have questions? The answers await in our How Long Does Ashwagandha Take to Work article.
Additional Considerations
Blood Pressure: Typically not a concern, but YMMV (Your Mileage May Vary).
Daily Intake: Generally safe, but occasional breaks are wise.
Efficacy Markers: Track stress levels and overall mood for signs of effectiveness.
Note: Always consult your healthcare provider for personalized advice.
Final Thoughts: It's More Than a Supplement, It's a Life Choice
Ashwagandha isn't just a supplement; it's a cornerstone of a balanced, health-focused lifestyle. Tailoring your regimen to include our SUPERIOR ASHWAGANDHA X212 can offer a convenient, potent way to integrate this marvelous herb into your daily life.
Related Reads
Frequently Asked Questions (FAQ): Unlock Your Ashwagandha Knowledge
Q1: What is the Best Time to Take Ashwagandha?
Answer: The best time to take Ashwagandha depends on your individual needs. Morning doses are great for stress management and productivity, while evening doses are ideal for relaxation and sleep quality. Our SUPERIOR ASHWAGANDHA X212 is flexible enough for both times.
Q2: How Long Does It Take for Ashwagandha to Work?
Answer: The effects of Ashwagandha can vary from person to person. Generally, it may take up to 2 weeks to notice significant changes. For a more detailed exploration, check out our How Long Does Ashwagandha Take to Work blog post.
Q3: Can Ashwagandha Be Taken on an Empty Stomach?
Answer: Ashwagandha can be taken on an empty stomach unless you have sensitivity or are prone to gastric issues. In such cases, taking it with a meal is recommended.
Q4: Are There Any Side Effects?
Answer: While Ashwagandha is generally safe for most individuals, some common side effects include digestive issues and headaches. It's not recommended for pregnant women and may interact with diabetes medication.
Q5: Can I Combine Ashwagandha with Other Supplements?
Answer: Yes, Ashwagandha pairs well with other supplements like L-Theanine for stress management. Before starting any new supplement combination, consult your healthcare provider. For more on this, read Ashwagandha and L-Theanine: Is It a Great Combination?.
Q6: How Do I Know if Ashwagandha is Working?
Answer: Monitoring changes in your stress levels, sleep quality, and overall well-being can be good indicators. Consistent use is key for lasting benefits.
Q7: What is the Recommended Dosage?
Answer: The general recommended dosage is 300–500mg per day, although this can vary based on your specific needs and the advice of a healthcare professional.
Q8: Is Ashwagandha Safe for Long-Term Use?
Answer: Generally speaking, Ashwagandha is safe for long-term use. However, it's wise to consult with a healthcare provider for personalized advice.