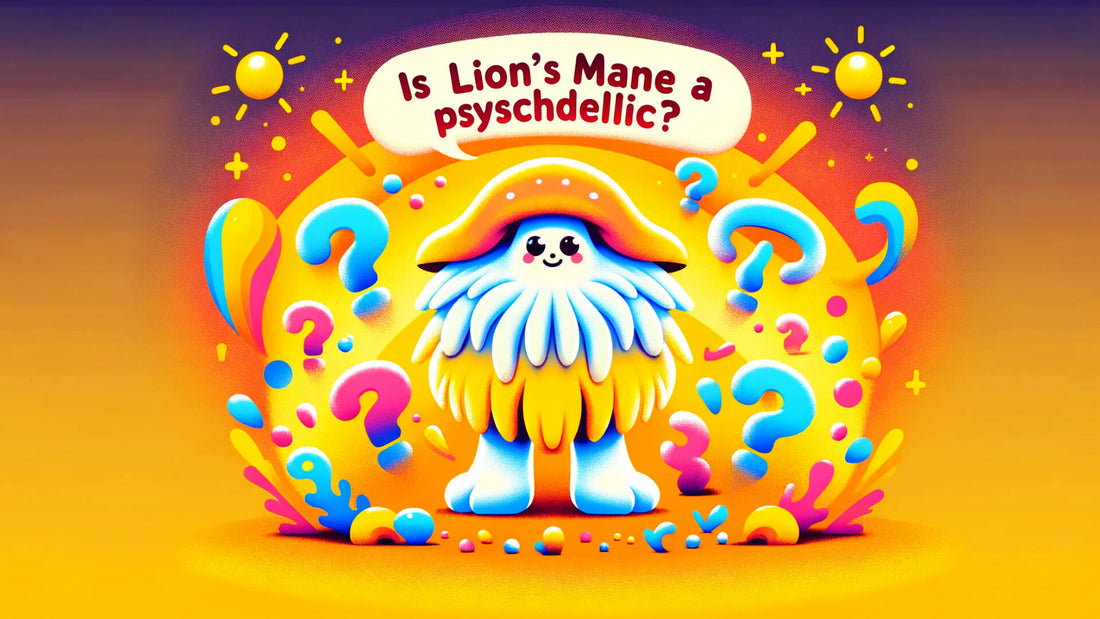 Is Lion's Mane Mushroom Psychedelic?
Is Lion's Mane Psychedelic? An In-Depth Guide
Table of Contents
Introduction to Lion's Mane Mushroom
Definition and Origin of Lion's Mane Mushroom
Lion's Mane Mushroom, scientifically known as Hericium erinaceus, is a fascinating species of fungus with cascading, hair-like spines. Often found on hardwood trees, it's native to North America, Europe, and Asia. Named after its striking resemblance to a lion's mane, this mushroom has been used in traditional Chinese medicine for centuries. In the modern age, it's a superstar ingredient in supplements aiming to boost everything from cognitive function to gut health.
Quick Facts About Lion's Mane
| Property | Description |
| --- | --- |
| Family | Hericiaceae |
| Native Regions | North America, Europe, Asia |
| Color | White to Beige |
| Edible | Yes |
| Medical Usage | Cognitive Function, Nerve Repair, Immune Boosting |
Distinction from Psychedelic Mushrooms
The burning question—Is Lion's Mane a psychedelic mushroom? The answer is a resounding no. While it does have a history of traditional usage for enhancing cognitive function and promoting neurological health, it doesn't contain hallucinogenic compounds like psilocybin or psilocin, which are found in psychedelic mushrooms like the infamous "Magic Mushrooms" (Psilocybe cubensis). Want to dive deeper? Check out our article: Is Lion's Mane a Psychedelic?.
Comparing Lion's Mane and Psychedelic Mushrooms
| Attribute | Lion's Mane | Psychedelic Mushrooms |
| --- | --- | --- |
| Scientific Name | Hericium erinaceus | Various, e.g., Psilocybe cubensis |
| Psychoactive | No | Yes |
| Hallucinogenic | No | Yes |
| Primary Compounds | Beta-Glucans, Polysaccharides | Psilocybin, Psilocin |
Key Compounds in Lion's Mane
Prebiotic Fibers
One of the marvels of Lion's Mane is its rich prebiotic fiber content. Prebiotic fibers serve as the "food" for beneficial bacteria in the gut, helping to maintain a balanced microbiome.
How Prebiotic Fibers Support Gut Health
Enhance digestion
Improve nutrient absorption
Balance gut flora
If you're looking to optimize gut health, consider incorporating Lion's Mane along with a specialized formula like our Superior Gut Health Bundle.
Polypeptides
Polypeptides in Lion's Mane may contribute to its neuroprotective properties. These are short chains of amino acids that have been observed to stimulate the growth of brain cells, thereby potentially enhancing memory and cognitive function.
Polypeptides & Brain Function
Stimulate neuron growth
Enhance neurotransmitter efficiency
Aid in neuroplasticity
Beta-Glucans 1,3 1,6
These are complex sugars that contribute to the mushroom's immune-boosting abilities. Beta-Glucans 1,3 1,6 are known to modulate the immune system, activating certain white blood cells that are vital in fighting off infections and diseases.
Polysaccharides
Polysaccharides are yet another type of sugar molecule in Lion's Mane, but these have antioxidant properties. Antioxidants are crucial for combating oxidative stress, which is linked to aging and various diseases.
Digestive Enzymes
These enzymes help break down food substances, enhancing nutrient absorption and aiding in digestion. They complement Lion's Mane's prebiotic fibers, forming a dynamic duo that could revolutionize your digestive health.
The Role of Digestive Enzymes
Break down food into smaller, absorbable components
Enhance nutrient assimilation
Alleviate digestive discomfort
The marriage of prebiotic fibers and digestive enzymes in Lion's Mane makes it a promising supplement for those looking to improve gut health. Check out our Superior Digestive Enzyme x485 for an additional digestive boost.
Terpenoids and Betaglucans
Terpenoids and Betaglucans are secondary metabolites found in Lion's Mane that contribute to its aromatic and flavor profile, as well as its anti-inflammatory properties.
The Comprehensive Benefits of Lion's Mane
Cognitive Support and Neuroprotection
The neuroprotective capabilities of Lion's Mane are arguably its most exciting feature. It's believed to stimulate the synthesis of Nerve Growth Factor (NGF), a protein that promotes the growth, maintenance, and survival of neurons.
Cognitive Benefits of Lion's Mane
May improve focus and attention
Supports brain health and memory
Alleviates feelings of occasional stress and mood swings
Mood Enhancement and Mental Health
Lion's Mane doesn't just stop at boosting your cognitive prowess; it may also lift your spirits. Studies suggest that it has the potential to balance neurotransmitters, thereby improving mood and reducing symptoms of anxiety and depression.
Immune System Support
The immune-boosting properties of Lion's Mane are bolstered by its rich content of Beta-Glucans 1,3 1,6 and other polysaccharides, which can potentially modulate and enhance the immune system.
Gut Health and Digestive Enzymes
The gut-brain axis is a hot topic in medical research, and Lion's Mane is a rockstar in this arena. With its high prebiotic fiber content and digestive enzymes, it offers comprehensive support for gut health.
Better digestion
Enhanced nutrient absorption
Balanced gut microbiome
Body's Adaptation to Occasional Stress
Last but not least, Lion's Mane may help the body adapt to stress, thanks to its potential adaptogenic properties. These could aid in balancing cortisol levels, the hormone primarily responsible for stress responses.
Exploring The Psychedelic Properties
Is Lion's Mane Psychoactive?
Simply put, Lion's Mane is not a psychoactive mushroom. While it does influence brain function, the effects are generally oriented towards improving cognitive function and mental well-being rather than inducing hallucinations or altered states of consciousness.
Does Lion's Mane Contain Psilocybin?
No, Lion's Mane does not contain psilocybin or any other hallucinogenic compounds. Its cognitive and mood-enhancing benefits are attributed to its unique blend of natural compounds like polysaccharides, polypeptides, and terpenoids.
Lion's Mane vs Psychedelic Mushrooms
While both Lion's Mane and psychedelic mushrooms impact the brain, they do so in very different ways. The latter contain psychoactive compounds like psilocybin that can induce hallucinations, whereas Lion's Mane offers a range of health benefits without the 'trip.'
A Side-by-Side Comparison
| Criteria | Lion's Mane | Psychedelic Mushrooms |
| --- | --- | --- |
| Cognitive Benefits | Yes | Varies |
| Mood Enhancement | Yes | Varies |
| Hallucinogenic | No | Yes |
| Legal Status | Generally legal | Varies by jurisdiction |
Safe Consumption: Risks and Side Effects
Possible Allergies and Side Effects
Like any supplement, Lion's Mane comes with its set of precautions. Some people may be allergic to mushrooms and could experience symptoms like skin irritation, difficulty breathing, or gastrointestinal discomfort.
Dosage Recommendations and Precautions
The optimal dosage of Lion's Mane can vary depending on individual needs and the specific product formulation. As a rule of thumb, it's best to start with a lower dose and gradually increase it as you monitor your body's response.
Suggested Dosage for Lion's Mane
Capsules: 500-3,000 mg per day
Tincture: 1-2 ml, 1-3 times per day
Powder: 1-2 grams per day
If you're in doubt about the dosage or potential interactions with other medications, it's always a good idea to consult a healthcare provider.
Different Forms and Quality Factors
Lion's Mane supplements come in various forms, such as capsules, tinctures, and powders. The quality can differ depending on extraction methods, growing conditions, and other variables.
Quality Metrics for Lion's Mane
Organic sourcing
Extraction method
Percentage of active compounds
Lion's Mane and Other Psychedelics: A Comparative Analysis
Benefits of Combining with Psychedelics
Although Lion's Mane isn't a psychedelic, some users find value in combining it with psychedelics like psilocybin for enhanced cognitive and creative benefits. This combination is thought to produce a synergistic effect, although more research is needed to substantiate these claims.
List of Common Psychedelic Mushrooms
Psilocybe Cubensis
Psilocybe Semilanceata
Amanita Muscaria
Psilocybe Cyanescens
Frequently Asked Questions (FAQs)
Hallucinogenic Potential and Legal Implications
Q: Can Lion's Mane cause hallucinations?
A: No, Lion's Mane is not hallucinogenic and doesn't contain psychoactive compounds.
Q: Is Lion's Mane legal?
A: Yes, Lion's Mane is generally legal to buy, sell, and consume in most countries.
Tasting Notes
Q: What does Lion's Mane taste like?
A: Lion's Mane has a subtle, seafood-like taste, often likened to crab or lobster.
Lion's Mane in the UK and Global Legality
Q: Is Lion's Mane legal in the UK?
A: Yes, Lion's Mane is generally considered legal and safe for consumption in the UK.
Wrapping Up: To Consume or Not to Consume?
So, is Lion's Mane psychedelic? Not in the slightest! While it shares the 'mushroom' tag with some of the world's most famous psychedelics, its qualities are entirely different but equally awe-inspiring. With potential benefits ranging from cognitive enhancement to immune support and gut health, it's a versatile supplement that deserves a spot in your wellness routine.
Want to experience the diverse benefits of Lion's Mane? Feel free to explore our range of high-quality mushroom supplements, including the [Superior 10x Mushroom
x549](/products/superior-10x-mushroom-x549), that are tailored for individuals who want to live a healthier life.
Whether you're a student striving for academic excellence, a professional yearning for peak mental performance, or simply someone seeking a holistic approach to health, Lion's Mane is a supplement worth considering.