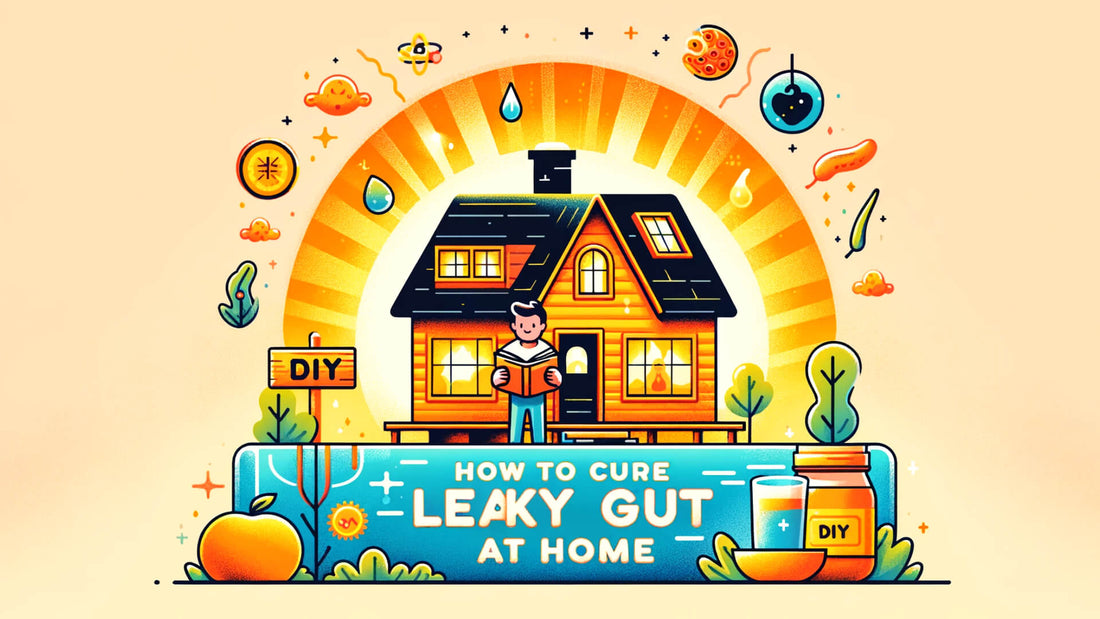 How to Cure Leaky Gut at Home
How to Cure Leaky Gut at Home: A Comprehensive Guide
Table of Contents
What Is Leaky Gut?
Leaky Gut, also known as "intestinal permeability," is a condition where the lining of the small intestine becomes damaged. This damage allows toxins, undigested food particles, and bacteria to leak through the walls of the intestine and into the bloodstream.
Is Leaky Gut Real? Debunking Myths.
While some critics argue that leaky gut is a fabricated condition, multiple scientific studies have demonstrated its existence and its potential effects on overall health. It's critical to be well-informed and not fall for myths.
Why is Gut Health Important?
Your gut is not just a food processing unit; it's the epicenter of your health. From nutrient absorption to immune system defense, a healthy gut contributes to overall well-being.
Quick List of Gut Functions:
Digestion of Food
Nutrient Absorption
Immunity Boosting
Mood Regulation
2. Recognizing Leaky Gut
Signs You May Have Leaky Gut
If you often experience bloating, gas, or cramps, these could be indicators of a leaky gut.
Symptoms of Leaky Gut
Symptoms can range from digestive issues to skin problems like eczema and even mental health conditions like depression.
How Do You Know If Your Gut Is Unhealthy?
Warning signs include frequent indigestion, changes in bowel habits, and unexplained fatigue. A well-balanced gut will generally mean better overall health.
Table: Leaky Gut Symptoms
| Symptoms | Description | Severity |
| --- | --- | --- |
| Bloating | Excessive gas | Moderate |
| Food Sensitivities | Adverse food reactions | High |
| Skin Issues | Eczema, rosacea | Low |
| Mental Fog | Difficulty focusing | Moderate |
3. Causes and Associations
What Causes Leaky Gut?
Common causes include poor diet, stress, and certain medications.
Disease Associations with Leaky Gut
Known Disease Associations
Conditions like Crohn's disease and Celiac disease have been directly linked to leaky gut.
Possible Disease Associations
Research is ongoing, but conditions like fibromyalgia and chronic fatigue syndrome are being investigated for connections to leaky gut.
4. Natural Remedies: Healing Leaky Gut at Home
The Importance of Dietary Changes
Your diet plays a pivotal role. Opt for nutrient-rich, unprocessed foods to make a meaningful difference.
Top 10 Home Remedies for Leaky Gut:
1. Drink Plenty of Water:
Hydration is more than just quenching your thirst; it's crucial for digestion, nutrient absorption, and overall gut health. Aim for at least 8 cups of water per day. If you're looking to optimize your hydration, consider adding our Fulvic Acid and Humic Acid Trace Mineral supplement to your regimen. It not only helps you stay hydrated but also provides essential trace minerals that can further benefit your gut health.
Key Points:
2. Eliminate Trigger Foods and Stock Up on Whole Foods:
Identify and remove trigger foods from your diet, focusing instead on whole, unprocessed foods like fruits, vegetables, and lean proteins.
Key Points:
Keep a food diary
Focus on fruits, vegetables, and lean proteins
Read food labels carefully
3. Consume Probiotics and Prebiotic Foods:
Incorporating foods rich in probiotics like yogurt, kefir, and sauerkraut can be a beneficial step in populating your gut with healthful bacteria. However, for a more concentrated dose of probiotics tailored for gut health, consider adding our Superior Probiotic x745 to your regimen. This supplement is specifically designed to improve your gut flora, potentially speeding up your recovery from leaky gut. Complement these probiotics with prebiotic foods like garlic, onions, and asparagus to serve as nourishment for these good bacteria.
Key Points:
Opt for foods rich in live cultures
Consider our Superior Probiotic x745 for a targeted approach
Pair with prebiotic foods to nourish good bacteria
By adding a high-quality probiotic supplement like Superior Probiotic x745, you can supercharge your efforts to heal your gut. Always remember to consult a healthcare provider before starting any new supplement regimen.
4. Eat a Balanced, Anti-Inflammatory Diet and Increase Fiber Intake:
Focus on anti-inflammatory foods like berries and nuts, and aim for at least 25-30 grams of fiber per day.
Key Points:
Incorporate berries, nuts, and green tea
Aim for 25-30 grams of fiber daily
Limit red meat and processed foods
5. Manage Stress and Prioritize Sleep:
Chronic stress and insufficient sleep can significantly aggravate leaky gut symptoms. Stress management techniques like deep breathing, yoga, and meditation can be beneficial in lowering cortisol levels, which has a direct positive impact on your gut health. Sleep is equally important; aim for 7-8 hours of quality sleep per night to allow your body to repair itself. For those who find it challenging to manage stress or get adequate sleep, our Sleep and Relaxation Bundle can be a valuable addition to your routine. This bundle is specifically curated to help you relax, unwind, and achieve better sleep, thereby accelerating your journey to a healthier gut.
Key Points:
Use stress management techniques like deep breathing and yoga
Aim for 7-8 hours of quality sleep each night
Consider our Sleep and Relaxation Bundle to aid in stress management and improve sleep quality
By incorporating stress management techniques and quality sleep into your lifestyle, and possibly supplementing with our Sleep and Relaxation Bundle, you're taking a holistic approach to heal your gut. Always consult a healthcare provider before starting any new supplement or lifestyle changes.
6. Exercise Regularly and Stay Active:
Aim for at least 150 minutes of moderate exercise per week to stimulate digestion and reduce stress.
Key Points:
Aim for 150 minutes of exercise per week
Include a mix of cardio and strength training
Avoid over-exercising as it can cause stress
7. Avoid Smoking, Reduce Alcohol Intake, and Limit NSAIDs:
Limit or eliminate smoking, alcohol, and NSAIDs to reduce irritation to your gut lining.
Key Points:
Quit smoking
Limit alcohol to moderate levels
Use natural pain relief alternatives
8. Consider Special Diets: FODMAP and Gluten-Free Options:
Consult a healthcare provider before starting a special diet and monitor your symptoms closely.
Key Points:
Consult a healthcare provider
Monitor symptoms closely
Reintroduce foods gradually to identify triggers
9. Natural Boosters: Turmeric, Bone Broth, and Slippery Elm:
Use natural boosters like turmeric, bone broth, and slippery elm to supplement your leaky gut healing regimen.
Key Points:
Use high-quality, organic sources
Incorporate into meals or take as a supplement
Consult a healthcare provider for appropriate dosages
10. Maintain Healthy Vitamin D Levels:
Aim for 15-20 minutes of sun exposure daily or consider a Vitamin D supplement after consulting your healthcare provider.
Key Points:
Aim for 15-20 minutes of sun exposure daily
Consider Vitamin D supplementation
Regularly check Vitamin D levels
By incorporating these comprehensive home remedies into your lifestyle, you're laying down a strong foundation for a healthier, happier gut. Remember, consistency is key, and always consult a healthcare professional for personalized advice.
5. Supplements for Healing Leaky Gut
Supplementation can be a convenient and effective way to tackle leaky gut. Consider adding our Superior Gut Health Bundle to your regimen.
Benefits of Probiotic Supplements
Probiotic supplements populate your gut with beneficial bacteria, enhancing its function and potentially alleviating symptoms.
The Role of Glutamine and Glutamine-Rich Foods
Glutamine can fortify the intestinal wall, making it less susceptible to permeability. Our Superior L-Glutamine x215 is a top pick.
Understanding Fulvic Acid and Humic Acid
These acids, as discussed in our article on What is Fulvic Acid, can improve nutrient absorption and overall gut health.
The Importance of Digestive Enzymes
Digestive enzymes like those in our Superior Digestive Enzyme x485 can facilitate better nutrient digestion and absorption.
6. Additional Tips and Prevention
Importance of Gut Microbiome
A diverse microbiome is a happy microbiome.
Why Reducing Medications When Necessary is Crucial
Some medications can aggravate leaky gut. Consult your doctor for alternatives if needed.
How to Take Care of Your Gut on a Daily Basis
Eat fiber-rich foods
Limit processed foods
Stay hydrated
When and Why to Consider a Gluten-Free Diet
If you're experiencing gluten sensitivity or have Celiac disease, a gluten-free diet could be beneficial.
7. Seek Professional Guidance
When to See a Doctor about Leaky Gut Syndrome
Don't self-diagnose; consult a healthcare professional for diagnosis and treatment.
How a Dietitian Can Help
A dietitian can provide personalized nutrition guidance tailored to your needs.
Get Personalized Nutrition Guidance
Professional guidance is always a wise investment in your health.
9. Conclusion: Are You Ready to Fix Your Gut Naturally?
In a nutshell, your gut is your second brain, and it deserves top-notch care. Implementing these tips and perhaps integrating our Detox Bundle could be your first step toward a healthier, happier you.
10. Related Articles and Resources
So, are you ready to take the plunge and start your journey to better gut health? It's a path well worth walking.