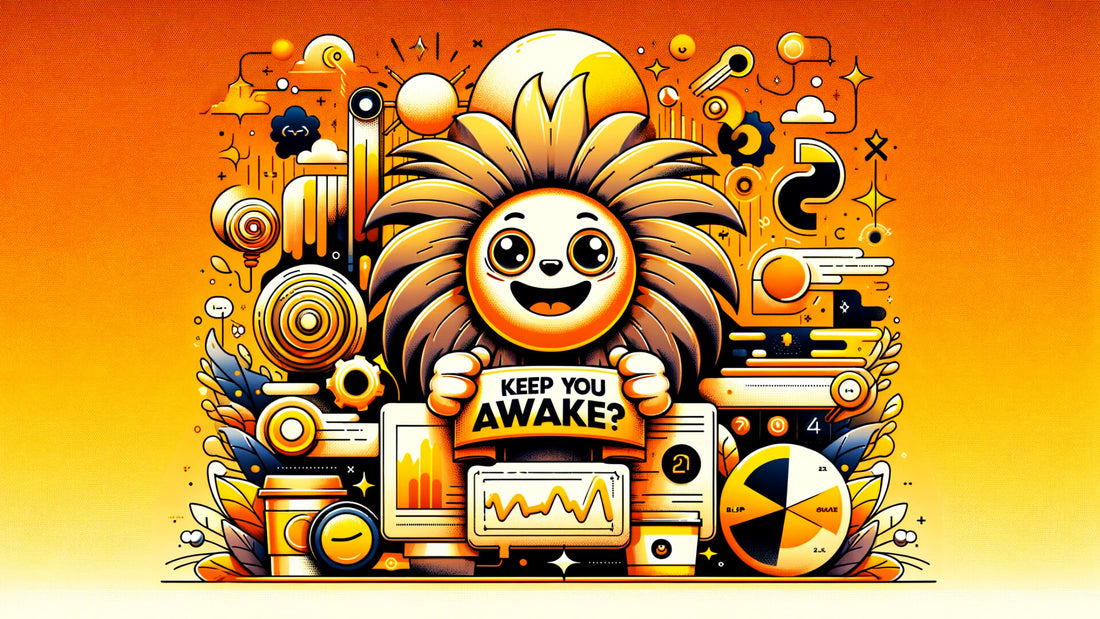 Does Lion's Mane Keep You Awake?
Does Lion's Mane Keep You Awake? A Comprehensive Exploration
Table of Contents
Table of Contents
I. Introduction to Lion's Mane
As you peer into the colorful and often mysterious realm of natural supplements, one name might catch your eye: Lion's Mane mushroom. No, it's not a new exotic dish but a supplement that has been gaining traction in the health community. What makes Lion's Mane intriguing is its versatility—it's like the Swiss Army knife of the mushroom world, discussed as an aid for everything from cognitive enhancement to digestive health.
But wait, what about sleep? Does this cognitive sparkplug known as Lion's Mane actually affect your slumber? Let's unravel this query and examine the interplay between Lion's Mane mushroom and sleep.
Quick Facts:
Botanical Name: Hericium erinaceus
Common Uses: Cognitive enhancement, nerve repair, digestive health
Potential Sleep Benefits: Reduction of anxiety and stress, improvement in sleep quality (not fully verified)
---
II. The Benefits of Lion's Mane Mushroom
Lion's Mane mushroom is like the Renaissance artist of the fungal kingdom—a mushroom with a portfolio of talents. It's not just a one-trick pony; it's an adaptogen, a substance said to help your body adapt to stress, sort of like a botanical crisis manager. If you're feeling the brain fog or can't quite crack that mental Rubik's Cube, Lion's Mane might just clear things up. Thanks to its adaptogenic properties, this mushroom could be a nifty addition to your Nootropic Focus Bundle.
Its effects on cognitive health and mental clarity are backed by a series of studies. The mushroom contains unique compounds like hericenones and erinacines, which are shown to stimulate the growth of brain cells. But that's not all—its potential neuroprotective effects and capabilities in nerve regeneration could place it in the hall of fame for natural wellness supplements.
Table: Lion's Mane Mushroom Benefits
| Benefit Category | Specific Benefits | Potential User Benefits |
| --- | --- | --- |
| Adaptogenic | Stress management | Increased resilience to stress |
| Cognitive Health | Mental clarity, focus | Improved work efficiency |
| Neuroprotective | Nerve regeneration | Potential benefits for nerve injuries |
---
III. Lion's Mane Mushroom and Sleep
A. Existing Articles and Blogs
As you traverse the labyrinthine landscape of online information, you'll come across various perspectives on Lion's Mane and sleep. From lifestyle blogs to scientific journals, the topic is dissected from multiple angles. Our own blog, Does Lion's Mane Keep You Awake?, joins this choir of voices, attempting to clear up some of the fog surrounding this intriguing question.
While some users report experiencing better sleep quality after incorporating Lion's Mane into their wellness regimen, others claim the opposite, making it a somewhat polarizing subject.
B. Scientific Analysis
If we dig into the scientific papers, you'll find that the soil isn't very fertile—yet. Few studies directly explore the relationship between Lion's Mane mushroom and sleep. However, indirect evidence exists. For example, Lion's Mane has shown promise in reducing symptoms of anxiety and depression, both of which can have significant impacts on sleep quality.
But science, like nature, is nuanced. Some studies point to conflicting findings, and the spectrum of individual experiences makes this a complex topic to untangle.
Scientific Takeaways:
Positive Indicators: Reduced anxiety and stress could translate to better sleep.
Conflicting Data: Some users report no change or even negative effects on sleep.
Gaps in Research: Insufficient studies to form a comprehensive conclusion.
---
IV. Factors to Consider When Using Lion's Mane
Here's where the plot thickens—individual differences. Just because Lion's Mane has sleep-enhancing benefits for one person doesn't mean it will work for you. Always remember that supplements are not a one-size-fits-all solution. This is why consulting healthcare professionals is advisable, especially if you're already on medication or have a pre-existing health condition.
To elevate your sleep health journey, consider combining Lion's Mane with other wellness products like our Sleep & Relaxation Bundle.
Quick Checklist:
✅ Consult healthcare professionals
✅ Consider individual differences
✅ Pair with other wellness supplements
---
V. Conclusion: So, Does Lion's Mane Keep You Awake?
The question of whether Lion's Mane mushroom keeps you awake or not remains shrouded in ambiguity. While the scientific community is still exploring this, anecdotal evidence suggests a varied range of experiences.
The adaptogenic and cognitive benefits of Lion's Mane are compelling, yet we must emphasize the need for further research in its relationship to sleep. Always remember, if you're thinking about incorporating any new supplement into your routine, consult with healthcare professionals to tailor a plan that suits your unique needs.
VI. FAQ about Lion's Mane and Sleep
Q: Does Lion's Mane affect sleep quality?
A: The evidence is inconclusive. Some users report improved sleep, while others do not.
Q: Can I take Lion's Mane along with other supplements for sleep?
A: It's advisable to consult with a healthcare professional for a tailored recommendation.
Q: Are there any side effects to consider?
A: Lion's Mane is generally considered safe, but individual experiences may vary.
Be vigilant, be informed, and here's to a journey toward better sleep and overall well-being.